Investors in Dark as Singapore and India Fight Over Futures
What started as a business disagreement between two Asian exchanges has become a source of growing concern.
27 May 2018, 03:56 AM IST
(Bloomberg) -- What started as a business disagreement between two Asian exchanges has become a source of growing concern for international investors.
A fight between Singapore Exchange Ltd. and National Stock Exchange of India Ltd. over derivatives contracts is threatening to end a popular way of hedging Indian shares. The battle, which went to court in Mumbai this week, has left traders scrambling to find new ways to manage their exposure to the $2.3 trillion market, one of Asia's biggest.
The dispute broke into the open in February after NSE said it was axing licensing agreements with overseas bourses. India is trying to discourage offshore trading and promote a tax-free trading zone in Prime Minister Narendra Modi's home state, part of a broader effort by Asian nations to keep control of capital while further integrating into the global financial system. That's not a combination that appeals to money managers.
"The moves do not help and it sends a wrong signal to the investing community," said Salman Ahmed, London-based chief investment strategist at Lombard Odier Investment Managers. "You want to open your capital account incrementally, and for foreigners to invest in your very young population. This is a very bad signal to give."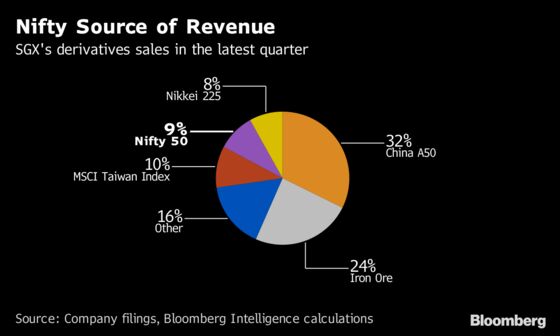 NSE and SGX first clashed in January, when the Indian bourse asked its counterpart to delay plans to introduce single-stock futures that would track some of the subcontinent's largest companies. SGX ignored the request, and a week later India's three national exchanges said they'd cancel their offshore pacts, which meant that Singapore could no longer offer Nifty 50 Index futures.
"The battle is more about control and volumes," said Vik Mehrotra, chief executive officer of Venus Capital Management Inc. in Boston, who has been investing in India since 1994. "This is a self-preservation move by NSE. This is an unnecessary fight."
Officials from NSE and SGX declined to comment.
NSE is suing to prevent SGX from starting contracts that would replace the Nifty 50 derivatives. Singapore's exchange has readied the SGX India Futures for launch on June 4, and has said the contracts will use publicly available data. NSE argued that they are "unlicensed products" and "identical" to the Nifty-branded futures. The Indian exchange had sought the urgent hearing without giving notice to SGX, a sign of how much the 18-year partnership between the companies has deteriorated.
The next hearing in the case is due on Saturday; in the meantime the Bombay High Court has issued an injunction against SGX to prevent it from launching the new products.
SGX's shares fell 2.1 percent on Tuesday, when the company revealed the lawsuit in Mumbai, its biggest drop since April 4. The stock closed Friday down 3.4 percent since Monday's open, its worst week since mid-February, according to data compiled by Bloomberg.
If the NSE wins, and assuming SGX abides by a ruling from India, investors will be left without an easy offshore way to hedge Indian stocks. Some global asset managers are saying they may pull out of the country, said Eugenie Shen, managing director and head of the asset management group at the Asia Securities Industry & Financial Markets Association. Others may lower their exposure, she said.
"Many still prefer to access India through offshore products or offshore means because the general view is that it is difficult and costly for foreigners to invest onshore," Shen said.
India's markets regulator on Thursday allowed foreign investors to execute trades via brokers without registering on stock exchanges in the tax-free zone in Modi's home state of Gujarat known as Gift City.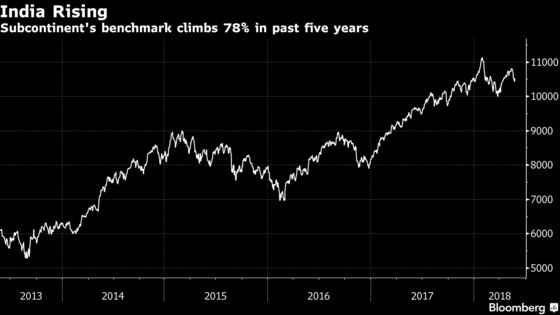 The question investors are asking is what they'll do if Singapore abandons Indian futures, which currently have about $15 billion in open interest, according to Sean Cunningham, head of capital markets and fixed income for iShares in Asia Pacific at BlackRock Inc.
"Investors are looking to alternatives to be able to get the exposure they are going to have to get," Cunningham said. "There is still a lot of uncertainty out there what the end result will be."
SGX's lawyers in the Mumbai court signaled on Wednesday that they would be willing to enter arbitration to resolve the issue, though it's unclear what the contract between the exchanges, first signed in 2000 and amended last year, sets out for any court-mandated dispute-resolution.
In the meantime, market participants should try to trade onshore or use synthetic products to keep their hedges, said Nikhil Bhatnagar, head of Asia sales at Auerbach Grayson & Co. in New York.
"Investors will suffer in this drama," said Anil Ahuja, CEO at Singapore-based IPEplus Advisors.
(A previous version of this story corrected investor's name in sixth paragraph.)
--With assistance from Upmanyu Trivedi.
To contact the reporters on this story: Andrea Tan in Singapore at atan17@bloomberg.net;Santanu Chakraborty in Mumbai at schakrabor11@bloomberg.net;Benjamin Robertson in Hong Kong at brobertson29@bloomberg.net;Kana Nishizawa in Hong Kong at knishizawa5@bloomberg.net
To contact the editors responsible for this story: Sam Mamudi at smamudi@bloomberg.net, Michael Patterson