China Shares Sink to Lowest Since March 2016 as Yuan Declines
The Shanghai Composite Index sank deeper into a bear market.
(Bloomberg) -- The Shanghai Composite Index sank deeper into a bear market Thursday, closing at the lowest since March 2016 as the yuan also weakened.
The benchmark retreated for a fourth straight day, sliding 0.9 percent to end the session below 2,800 points for the first time in two years. It's now down 22 percent from a January peak. The yuan fell 0.36 percent to 6.6260 per dollar as of 5:10 p.m. local time, heading for its weakest level since November. Stocks in Shenzhen also declined.
The selloff has shown little sign of abating as a trade dispute with the U.S., weaker-than-expected economic data, the sliding yuan, and concern over liquidity and defaults bruise sentiment. A gauge of Chinese stocks in Hong Kong joined the Shanghai index in bear market territory yesterday and closed down a further 0.1 percent Thursday.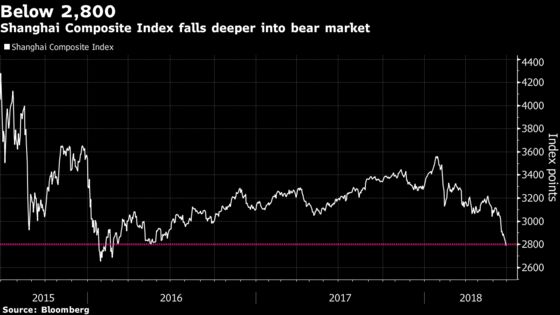 The slide in China's currency and stocks has provoked flashbacks to the 2015 market crash, though the pace of the selloff isn't as rapid as the one that rattled global markets back then. Still, Chinese stocks have lost nearly $2 trillion in five months and the yuan is one of the world's worst performing currencies over the past two weeks. The offshore yuan was lower for an 11th day on Thursday, its longest-ever run of declines.
"The yuan may depreciate further due to the trade war and strength in the greenback," said Guo Feng, head of wealth management at Northeast Securities Co. "The interest spread gap between China and the U.S. also leads to outflow worries. The market is still under the influence of China's deleveraging drive, financial regulation, the trade war issue as well as a stronger dollar."
Property developers and airlines have been among the hardest hit by the yuan's decline due to their large amounts of dollar debt. Like the offshore yuan, Air China Ltd. has fallen for 11 straight days in Hong Kong, its longest ever losing streak. China Southern Airlines Co. has plunged 35 percent in 10 days, while developer Country Garden Holdings Co. is the worst performer on the Hang Seng Index this week.
The woes of real estate companies were further compounded Thursday after the government said it was starting a six-month campaign to root out violations in the housing market. That followed a tightening this week of loan approvals for redeveloping shanty-town projects and regulators urging companies to use proceeds from overseas bond sales to repay debt.
"The news that China will crack down on property speculation in 30 cities hurt sentiment and put pressure on shares," said Dai Ming, Shanghai-based fund manager with Hengsheng Asset Management Co. "It makes investors agitated whenever China tightens regulation over the property sector."
To contact Bloomberg News staff for this story: Amanda Wang in Shanghai at twang234@bloomberg.net;Amy Li in Shanghai at yli677@bloomberg.net
To contact the editors responsible for this story: Richard Frost at rfrost4@bloomberg.net, Will Davies, Sofia Horta e Costa
With assistance from Editorial Board