Trump Calls Kochs a 'Total Joke' After Break With GOP Candidate
Trump Calls Kochs a `Total Joke' After Break With GOP Candidate
(Bloomberg) -- President Donald Trump lashed out at billionaires Charles and David Koch, who've built one of the most influential groups in GOP politics, widening a rift that reflects a struggle over the future of the Republican Party.
In two tweets Tuesday morning, Trump called the brothers "globalists" who "have become a total joke in real Republican circles." He called their political network, which has funneled millions to Republican candidates and causes, "highly overrated" and said he's "beaten them at every turn."
Trump's reaction followed the Koch network's weekend donor summit in Colorado where Charles Koch sharply criticized the president's trade policies and leadership style as damaging to the country.
The Koch brothers didn't support Trump in 2016 and the two sides have clashed over Trump's opposition to long-held conservative beliefs on government spending and free trade, as well as a more welcoming stance held by the network on immigration. But Trump has demonstrated a tight hold over GOP voters that has made Republican politicians wary of crossing him.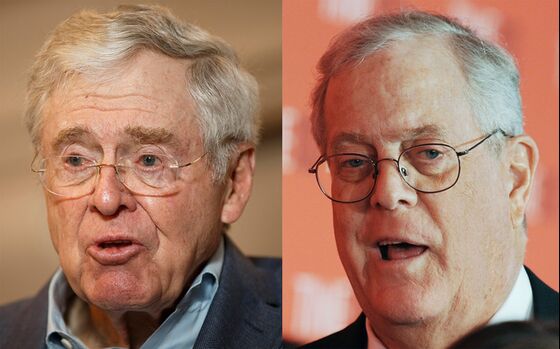 Trump alleged that his policies have made the brothers wealthier and that they "want to protect their companies outside the U.S. from being taxed," while he supports the American worker. In another tweet Trump called them: "Two nice guys with bad ideas."
James Davis, a spokesman for the network, didn't address any of the claims made by Trump in a statement he issued after the tweets. "We support policies that help all people improve their lives," he said. "We look forward to working with anyone to do so."
The Koch network has praised the Trump administration's actions to cut taxes and regulations. More recently, however, it has been sharply critical of his actions on trade issues and immigration.
Keeping the network happy is important to Republicans, especially in election years. It plans to spend about $400 million on state and federal policy and politics during the two-year cycle that culminates with November's balloting, a 60 percent increase over 2015-16. Besides trying to influence electoral politics, the organization also works on education, criminal justice, workforce and poverty issues.
Among the GOP elected officials who attended the network's donor event were Governor Rick Scott of Florida, who's running for U.S. Senate, Kentucky Governor Matt Bevin, Senator John Cornyn of Texas, Senator Tim Scott of South Carolina, and Representative Marsha Blackburn of Tennessee, who's running for U.S. Senate as a full-on backer of Trump.
The network's decision Monday not to support Representative Kevin Cramer against Democratic Senator Heidi Heitkamp in North Dakota was cast as a warning to other Republicans who might be tempted to stray from the free-market, fiscally restrained approach backed by the Kochs and their followers.
The decision not to back Cramer, as the network sought to put on a more bipartisan face, was announced at a briefing for more than 500 donors gathered at a luxury resort in Colorado Springs, Colorado.
"We can't support him at this time," said Tim Phillips, president of Americans for Prosperity, the network's flagship political organization.
Heitkamp is one of 10 Senate Democrats who face re-election in November in states Trump won in 2016. While polls and analysts suggest Democrats have a strong chance of winning the 23 seats they need to gain control of the House, their odds of winning a Senate majority are much slimmer.
AFP said it was remaining involved in Senate races in Wisconsin, Missouri, Tennessee and Florida, as well as governor's races in Michigan, Nevada and Florida.
Trump's tweets are aligned with comments former White House chief strategist Steve Bannon made a day earlier. "We don't have time to have some theoretical discussion and to have their spokesman come out and say the president is divisive," he told Politico.
Charles Koch, 82, chairman and chief executive officer of Koch Industries, told reporters Sunday he worries Trump's actions on trade and tariffs put the booming U.S. economy at risk of recession.
While senior officials from the network had blamed Trump for the nation's divisions a day earlier, Koch stopped short of that.
"We've had divisiveness long before Trump became president," he said in rare on-the-record exchange with reporters. "I'm into hating the sin, not the sinner."
--With assistance from Terrence Dopp.
To contact the reporter on this story: John McCormick in Chicago at jmccormick16@bloomberg.net
To contact the editors responsible for this story: Joe Sobczyk at jsobczyk@bloomberg.net, Elizabeth Wasserman