Merkel Steps Down as Party Leader as Election Setbacks Take Toll
Angela Merkel will quit as head of Christian Democratic party after nearly two decades, a person familiar with the matter said.
(Bloomberg) -- Germany's Angela Merkel will quit as head of her Christian Democratic party and won't run for another term as chancellor, taking personal responsibility for the decline in support for the governing coalition.
"The image presented by the government is unacceptable," Merkel said at a press conference in Berlin, a day after her party suffered its latest setback in a regional election. "With this decision, I am trying to do my part to allow the federal government to function well again."
After nearly 13 years in power, 64-year-old Merkel's authority has been severely tested since a disappointing result in last year's federal election. It took her six months to piece together a coalition which has been riven by infighting and suffered losses in regional ballots in Bavaria and, on Sunday, Hesse.
The shock decision signals the beginning of the end for a chancellor who put her stamp on Europe and beyond defending moderation and liberal values that have increasingly come under attack. As she prepares to leave the stage, Jair Bolsonaro is set to take office in Brazil, the latest in a series of nationalists gaining power around the world.
Merkel insisted she intends to remain in power until the end of her term in 2021. But how long she's able to hang on as chancellor will depend on who wins the race to succeed her as party leader.
If Merkel can install her ally Annegret Kramp-Karrenbauer, that may buy her enough time to leave on her own terms. If it's an enemy like Friedrich Merz -- pushed aside during the chancellor's rise to power -- then she may be in trouble. In any case, she said the party's loss of support was too severe to brush off.
"We can't simply return to business as usual," she said. "The raw numbers in Hesse were bitter and disappointing."
For now, the CDU will almost certainly support her decision as it focuses on the leadership contest, and the Social Democrats have little incentive to trigger an election, even though they've been punished for joining Merkel's coalition. SPD leader Andrea Nahles said the coalition parties have a joint interest in pulling together and praised Merkel for her "extraordinary achievements."
Many men in politics and journalists "laughed at her and called her weak" when she initially rose to power, Nahles said in Berlin. "She had a strong will and for the most part stronger nerves than her internal party critics."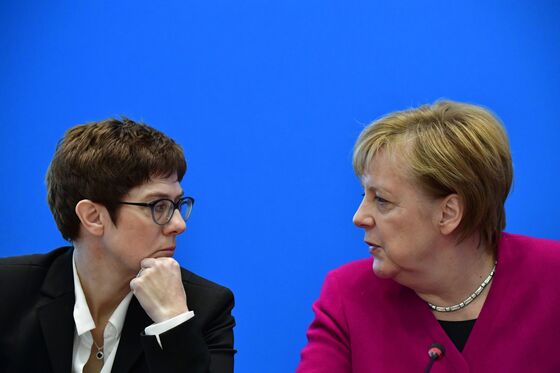 Market reaction was muted with the euro remaining above last week's low against the dollar.
Other contenders include Health Minister Jens Spahn, who has publicly criticized her open-doors refugee policy and is championed by the CDU's social conservatives; Ralph Brinkhaus, a fiscal hawk who unexpectedly ousted Merkel's longtime parliamentary caucus leader. Merkel said Kramp-Karrenbauer and Spahn plan to run for the CDU post.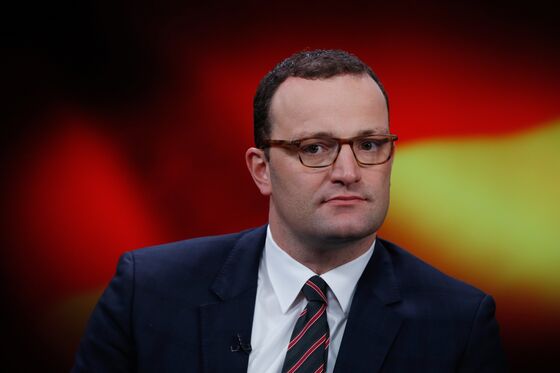 Two state premiers, Armin Laschet and Daniel Guenther, also carry weight after recently leading the CDU to victory in regional elections.
Amid speculation that she might seek to extend her political career with a European role in Brussels, Merkel said that she has no plans to seek any other political office once she leaves the chancellory, effectively announcing she'll step back from public life.
"I once said that I wasn't born chancellor," she said. "I haven't forgotten that."
To contact the reporters on this story: Arne Delfs in Berlin at adelfs@bloomberg.net;Patrick Donahue in Berlin at pdonahue1@bloomberg.net
To contact the editors responsible for this story: Alan Crawford at acrawford6@bloomberg.net, Chris Reiter, Ben Sills