Trump Warns Google, Facebook and Twitter to 'Be Careful'
Trump accuses Google of rigging its search results to display only negative stories about him.
(Bloomberg) -- President Donald Trump warned Alphabet Inc.'s Google, Facebook Inc. and Twitter Inc. "better be careful" after he accused the search engine earlier in the day of rigging results to give preference to negative news stories about him.
Trump told reporters in the Oval Office Tuesday that the three technology companies "are treading on very, very troubled territory," as he added his voice to a growing chorus of conservatives who claim internet companies favor liberal viewpoints.
"This is a very serious situation-will be addressed!" Trump said in a tweet earlier Tuesday. The President's comments came the morning after a Fox Business TV segment that said Google favored liberal news outlets in search results about Trump. Trump provided no substantiation for his claim.
"Google search results for 'Trump News' shows only the viewing/reporting of Fake New Media. In other words, they have it RIGGED, for me & others, so that almost all stories & news is BAD," Trump said. "Republican/Conservative & Fair Media is shut out. Illegal."
Trump's re-election campaign also texted his tweets to supporters, writing as part of an end-of-month fundraising push that "The FAKE NEWS machine is completely out of control."

Google search results for "Trump News" shows only the viewing/reporting of Fake News Media. In other words, they have it RIGGED, for me & others, so that almost all stories & news is BAD. Fake CNN is prominent. Republican/Conservative & Fair Media is shut out. Illegal? 96% of....
Sent via Twitter for iPhone.
View original tweet.
The allegation, dismissed by online search experts, follows the president's Aug. 24 claim that social media "giants" are "silencing millions of people." Such accusations -- along with assertions that the news media and Special Counsel Robert Mueller's Russia meddling probe are biased against him -- have been a chief Trump talking point meant to appeal to the president's base.
Google issued a statement saying its searches are designed to give users relevant answers.
"Search is not used to set a political agenda and we don't bias our results toward any political ideology," the statement said. "Every year, we issue hundreds of improvements to our algorithms to ensure they surface high-quality content in response to users' queries. We continually work to improve Google Search and we never rank search results to manipulate political sentiment."
Yonatan Zunger, an engineer who worked at Google for almost a decade, went further. "Users can verify that his claim is specious by simply reading a wide range of news sources themselves," he said. "The 'bias' is that the news is all bad for him, for which he has only himself to blame."

....results on "Trump News" are from National Left-Wing Media, very dangerous. Google & others are suppressing voices of Conservatives and hiding information and news that is good. They are controlling what we can & cannot see. This is a very serious situation-will be addressed!
Sent via Twitter for iPhone.
View original tweet.
Google's news search software doesn't work the way the president says it does, according to Mark Irvine, senior data scientist at WordStream, a company that helps firms get websites and other online content to show up higher in search results. The Google News system gives weight to how many times a story has been linked to, as well as to how prominently the terms people are searching for show up in the stories, Irvine said.
"The Google search algorithm is a fairly agnostic and apathetic algorithm towards what people's political feelings are," he said.
"Their job is essentially to model the world as it is," said Pete Meyers, a marketing scientist at Moz, which builds tools to help companies improve how they show up in search results. "If enough people are linking to a site and talking about a site, they're going to show that site."
Trump's concern is that search results about him appear negative, but that's because the majority of stories about him are negative, Meyers said. "He woke up and watched his particular flavor and what Google had didn't match that."
Complaints that social-media services censor conservatives have increased as companies such as Facebook Inc. and Twitter Inc. try to curb the reach of conspiracy theorists, disinformation campaigns, foreign political meddling and abusive posters.
Google News rankings have sometimes highlighted unconfirmed and erroneous reports in the early minutes of tragedies when there's little information to fill its search results. After the Oct. 1, 2017, Las Vegas shooting, for instance, several accounts seemed to coordinate an effort to smear a man misidentified as the shooter with false claims about his political ties.
Google has since tightened requirements for inclusion in news rankings, blocking outlets that "conceal their country of origin" and relying more on authoritative sources, although the moves have led to charges of censorship from less established outlets. Google currently says it ranks news based on "freshness" and "diversity" of the stories. Trump-favored outlets such as Fox News routinely appear in results.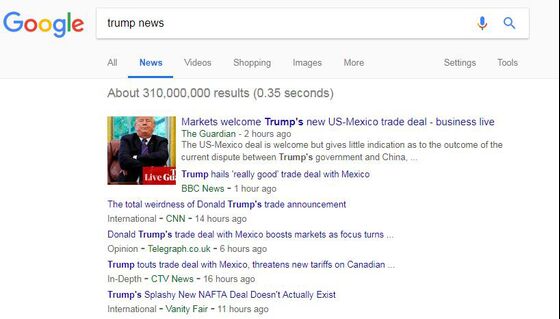 Google's search results have been the focus of complaints for more than a decade. The criticism has become more political as the power and reach of online services has increased in recent years.
Eric Schmidt, Alphabet's former chairman, supported Hillary Clinton against Trump during the last election. There have been unsubstantiated claims the company buried negative search results about her during the 2016 election. Scores of Google employees entered government to work under President Barack Obama.
White House economic adviser Larry Kudlow, responding to a question about the tweets, said that the administration is going to do "investigations and analysis" into the issue but stressed they're "just looking into it."
Trump's comment followed a report on Fox Business on Monday evening that said 96 percent of Google News results for "Trump" came from the "national left-wing media." The segment cited the conservative PJ Media site, which said its analysis suggested "a pattern of bias against right-leaning content."
The PJ Media analysis "is in no way scientific," said Joshua New, a senior policy analyst with the Center for Data Innovation.
"This frequency of appearance in an arbitrary search at one time is in no way indicating a bias or a slant," New said. His non-partisan policy group is affiliated with the Information Technology and Innovation Foundation, which in turn has executives from Silicon Valley companies, including Google, on its board of directors.
Services such as Google or Facebook "have a business incentive not to lower the ranking of a certain publication because of news bias. Because that lowers the value as a news platform," New said.
News search rankings use factors including "use timeliness, accuracy, the popularity of a story, a users' personal search history, their location, quality of content, a website's reputation -- a huge amount of different factors," New said.
Google is not the first tech stalwart to receive criticism from Trump. He has alleged Amazon.com Inc. has a sweetheart deal with the U.S. Postal Service and slammed founder Jeff Bezos's ownership of what Trump calls "the Amazon Washington Post."
Google is due to face lawmakers at a hearing on Russian election meddling on Sept. 5. The company intended to send Senior Vice President for Global Affairs Kent Walker to testify, but the panel's chairman, Senator Richard Burr, who wanted Chief Executive Officer Sundar Pichai, has rejected Walker.
Read more: Senators fault Google CEO for declining to testify.
Despite Trump's comments, it's unclear what he or Congress could do to influence how internet companies distribute online news. The industry treasures an exemption from liability for the content users post. Some top members of Congress have suggested limiting the protection as a response to alleged bias and other misdeeds, although there have been few moves to do so since Congress curbed the shield for some cases of sex trafficking earlier in the year.
The government has little ability to dictate to publishers and online curators what news to present despite the president's occasional threats to use the power of the government to curb coverage he dislikes and his tendency to complain that news about him is overly negative.
Trump has talked about expanding libel laws and mused about reinstating long-ended rules requiring equal time for opposing views, which didn't apply to the internet. Neither has resulted in a serious policy push.
Trump has not always been hostile to Google. In July he lashed out at the European Union for imposing a record $5 billion fine against Google over its mobile phone operating system, calling Google one of America's "great companies."
--With assistance from Todd Shields, Shannon Pettypiece, Gerrit De Vynck and Bill Allison.
To contact the reporters on this story: Kathleen Hunter in London at khunter9@bloomberg.net;Ben Brody in Washington at btenerellabr@bloomberg.net
To contact the editors responsible for this story: Craig Gordon at cgordon39@bloomberg.net, Alistair Barr, Jillian Ward