U.K. Retail Sales Fall as New Variant of Virus Spooks Consumers
England's third lockdown hit non-essential retailers harder than the previous one in November.
(Bloomberg) -- England's third lockdown hit non-essential retailers harder than the previous one in November, with the new variant of the coronavirus hampering spending and confidence last month, according to the British Retail Consortium.
Clothing and footwear stores fared particularly badly as retailers on the whole saw the value of sales decline from a year earlier, the business lobby said Tuesday. A similar picture emerged in a separate Barclaycard survey, which showed consumer spending falling sharply and Britons more worried about their jobs.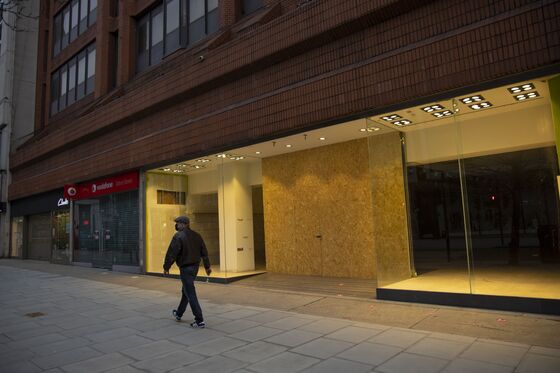 The findings are certain to intensify pressure on Chancellor of the Exchequer Rishi Sunak to use his budget on March 3 to extend tax relief programs designed to help struggling shops and other businesses through the pandemic.
"If government wants to avoid further administrations of otherwise viable businesses and thousands of jobs losses, it must provide those firms which have been hardest hit with the necessary financial support," said Helen Dickinson, chief executive of the BRC.
After a year of public restrictions to battle the spread of Covid-19, retailers are pinning their hopes on pent-up savings and a successful vaccine rollout to boost their fortunes. That would help an economy that had its worst slump in three centuries last year.
The diverging fortunes created by the pandemic were on display again in January, with online sales surging and the closure of schools leading parents to buy laptop computers and printers, according to the BRC. Alcohol sales also did well.
Barclaycard said tougher border controls hit holiday bookings during a month when consumers would typically be taking advantage of summer vacation deals.
Confidence in job security slumped to its lowest level in a more year, with just 40% of Britons saying they were optimistic in their employment prospects, the lender said.