Duterte Blames Trump for Soaring Consumer Prices
Duterte Blames Trump for Soaring Consumer Prices
(Bloomberg) -- U.S. President Donald Trump is to blame for surging consumer prices in the Philippines after he sparked a trade war with China, said Rodrigo Duterte, head of the Southeast Asian country where inflation has reached a nine-year high.
"This inflation under my watch, believe or not, started when America" under Trump imposed duties on Chinese goods, which prompted retaliation, Duterte said at a press briefing in Philippine southern city of Davao, following his visit to Israel and Jordan. "When America raised (tariff) rates and interest rates, everything went up."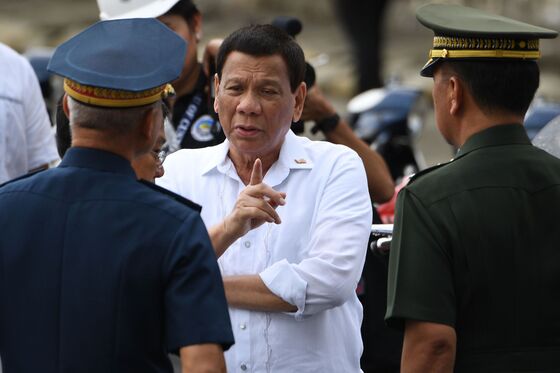 Duterte claimed his political opponents are using inflation and higher prices of rice to turn the public against him and support efforts to oust him "that will go into high gear" in October. He said the forces behind the plot to overthrow him include the Communist Party of the Philippines and Senator Antonio Trillanes, whose amnesty he revoked earlier this week.
Inflation surged to a 6.4 percent annual pace in August amid gains in prices of rice and oil. Costs of other goods have also risen after the imposition of higher taxes at the start of the year. Overseas investors are getting rattled by rising consumer prices, a falling peso and political developments, the Philippine Star reported, citing Jose Lim, president at Metro Pacific Investments Corp., one of the nation's biggest infrastructure companies
Duterte's statement contrasts with the central bank's view that inflation was partly due to higher taxes imposed by the government, which drove up prices of food, alcoholic drinks and tobacco. Tighter supplies of rice due to bad weather and the ongoing lean season also contributed to accelerating inflation, according to Bangko Sentral ng Pilipinas.
Meanwhile, Duterte said he will let the Supreme Court decide the validity of his proclamation revoking the amnesty that his predecessor President Benigno Aquino granted to Trillanes for his participation in military uprisings more than a decade ago against then-President Gloria Arroyo.
Duterte said he "targeted" Trillanes, a former navy officer and one of his most vocal critics, based on the recommendations of the solicitor general as he didn't fulfill the requirements to obtain the amnesty, including the filing of an application and admission of guilt. He said the pardon is also void since the body that investigated and recommended it was also the one that approved it.
Trillanes has asked the Supreme Court to void the amnesty revocation and stop Duterte from putting him back in jail. He has been staying in the Senate building since Sept. 4, when Duterte's order was published in a local newspaper and to avoid arrest, which the senator said is unconstitutional and meant to silence the President's political opponents and critics. Both the police and military have said they won't arrest Trillanes without a court order.
To contact the reporters on this story: Ian Sayson in Manila at isayson@bloomberg.net;Andreo Calonzo in Manila at acalonzo1@bloomberg.net
To contact the editors responsible for this story: Stanley James at sjames8@bloomberg.net, Jasmine Ng, Garfield Reynolds