U.S. Stocks Rally Most Since March as Tech Surges: Markets Wrap
All you need to know about what's moving markets today.  
(Bloomberg) -- U.S. stocks gained the most in more than six months as corporate earnings provided a respite from tensions over trade and geopolitics. The dollar declined.
The S&P 500 surged more than 2 percent, all 30 members of the Dow Jones Industrial Average advanced and small caps in the Russell 2000 Index notched the best gain since the day after the 2016 election. The Nasdaq Composite saw its biggest gain since March as UnitedHealth Group bolstered health-care firms and Adobe's forecast lifted software makers. Technology stocks looked set to extend gains in the futures session as Netflix rallied on a surge in net subscribers. IBM fell in late trading as its revenue missed targets.
Terminal subscribers can read more on Netflix earnings here.
The dollar held near a two-week low and the 10-year Treasury yield traded around 3.15 percent as data showed U.S. factory production expanded in September. Oil edged higher amid tensions between the Saudi Arabia and the U.S. over the disappearance of a prominent journalist.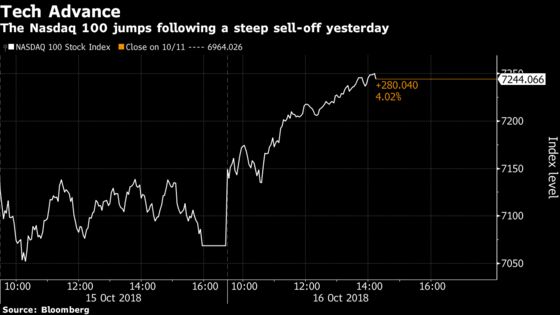 "The third quarter, which is now underway, would be the first sign if you're looking for a smoking gun for either tariffs or tightening conditions," Jurrien Timmer, director of global macro at Fidelity Investments, said by phone. "People at this point want to be relieved or are feeling that things aren't as bad as last week suggested."
Better results at the start of earnings season are giving many investors breathing room from concerns that a slowdown could be on the horizon. Netflix Inc. becomes the first large technology company to report after today's close, while minutes from the latest Fed meeting should offer more clues a day later. In the background, traders are still grappling with continuing U.S.-China trade war rhetoric and geopolitical strains.
Elsewhere, the pound climbed as leaders struck a conciliatory tone a day after Brexit negotiations broke down. The Turkish lira rose following seven days of gains after the country released U.S. pastor Andrew Brunson on Friday. In Asia, Japan's equities outperformed, while Chinese shares retreated.
Terminal readers can follow our Markets Live blog.
Here are some key events coming up this week:
APEC finance ministers meet in Port Moresby, Papua New Guinea.
China's new yuan loans may have risen to 1.36 trillion yuan ($196 billion) in September from August's 1.28 trillion yuan as officials sought to buoy economic growth.
Third-quarter GDP for China comes Friday, with headline growth forecast to slow to 6.6 percent year on year from 6.7 percent, in addition to last month's retail sales and factory output.
Minutes from the Federal Reserve's latest policy meeting are due on Wednesday, with investors focused on projections for further interest rate rises.
Netflix is among companies reporting this week.
Euro-area governments, including Italy, must turn in fiscal budget proposals to the European Commission by midnight Monday.
These are the main moves in markets:
The S&P 500 Index rose 2.2 percent to 2,809.83 as of 4 p.m. New York time, the most since March 26.
The Nasdaq Composite Index advanced 2.6 percent, the biggest rise since March 26.
The Russell 2000 Index gained 2.4 percent, the most since November 9, 2016.
The Dow Jones Industrial Average rose 1.9 percent, the most since March 26.
The Stoxx Europe 600 Index gained 1.6 percent, the most since April 5.
The MSCI Emerging Market Index gained 1.2 percent.
The Bloomberg Dollar Spot Index dipped 0.1 percent.
The euro rose 0.1 percent to $1.1585.
The British pound gained 0.3 percent to $1.3189.
The Japanese yen dipped 0.4 percent to 112.18 per dollar.
The yield on 10-year Treasuries was steady at 3.15 percent.
Germany's 10-year yield dipped one basis points to 0.49 percent, the lowest in almost two weeks.
Britain's 10-year yield advanced one basis point to 1.624 percent.
West Texas Intermediate crude rose 0.2 percent at $71.91 a barrel.
Gold fell 0.2 percent to $1,228.20 an ounce.
--With assistance from John Ainger, Sarah Ponczek and Yakob Peterseil.
To contact the reporters on this story: Randall Jensen in New York at rjensen18@bloomberg.net;Vildana Hajric in New York at vhajric1@bloomberg.net
To contact the editors responsible for this story: Jeremy Herron at jherron8@bloomberg.net, Natasha Doff