Russian Shops Start Raising Prices, Lowering Chance of Rate Cuts
Russian Shops Start Raising Prices, Lowering Chance of Rate Cuts
(Bloomberg) -- The ruble's slide this year is increasingly feeding into higher prices, creating a headache for the Bank of Russia as it looks to lower interest rates further to boost the flagging economy.
Inflation reached the central bank's 4% target last month for the first time in more than a year, the statistics agency reported late on Friday. Retailers say they've begun raising prices to offset the higher costs of imported goods after months of holding them steady amid weak demand.
Jan Dunning, chief executive officer of Magnit PJSC, Russia's second-largest retailer, said during an Oct. 29 investor call that prices are increasing due to the ruble drop, though the company is pushing back against transferring all costs to consumers. Children's goods chain Detsky Mir's CFO Anna Garmanova said on a recent earnings call that the company is weighing an increase in retail prices, while also trying to renegotiate purchasing costs.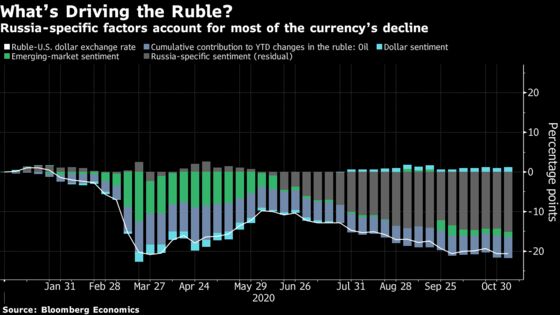 The ruble has dropped almost 20% against the dollar this year as oil demand dropped and investors worry that a Democratic administration in the U.S. could impose new sanctions. The Bank of Russia cited the wobbly ruble in its decisions to pause rate cuts at its two most recent meetings, but has held out the prospect of further reductions soon to stimulate growth.
Rising inflation has cast doubt on that, with the Economy Ministry forecasting that inflation will accelerate to as high as 4.2% this month. The central bank expects to see that level in December.
What Bloomberg Economics Says...
"Ruble depreciation is masking weak demand in the inflation numbers. The central bank is focusing on the underlying picture, which makes another rate cut likely once political uncertainty fades. It could be in December."

-- Scott Johnson, Russia economist

For the full note, click here
Forward-rate agreements are forecasting almost no change in the base rate over the next three months. The ruble's drop may add 0.15 percentage point to inflation in October-November, an increase from 0.1 percentage point in September, the central bank's research and forecasting department has estimated.
"If ruble weakness remains until December and it will lag peers, then the probability of another rate cut is really diminishing," said Dmitry Dolgin an analyst at ING Bank in Moscow.