Stocks Mixed; Bonds Edge Lower After Fed Minutes: Markets Wrap
Asia Stocks to Follow U.S. Rally, Bonds Steady: Markets Wrap
(Bloomberg) -- Most U.S. stocks fell as a mixed bag of earnings and concerns over rising rates weighed on investor confidence. Treasuries declined and the dollar gained as Fed minutes appeared to lean toward the chance of more hikes in the future.
The S&P 500 edged lower, failing to add to the biggest rally since March. Gains by banking giants Goldman Sachs and Morgan Stanley couldn't counter concerns about China that hit Technology stocks, as well as worries about the Fed's path that seeped into rates-sensitive shares. IBM's disappointing results dragged on the Dow Jones Industrial Average, while Netflix's surge and a gain in biotech shares lifted the Nasdaq 100.
The 10-year Treasury yield rose to 3.19 percent after minutes showed Fed officials appeared to favor an eventual move in rates above the level they see as neutral for the economy. The dollar rose the most in two weeks before a report expected Wednesday by the U.S. that could label China a currency manipulator. Oil fell to $70 a barrel after American stockpiles swelled for the fourth straight week.
"Yesterday, it was such a big rally it was almost a little too much. There are some legit reasons out there why the market has come down," said Matt Maley, equity strategist at Miller Tabak + Co. "Obviously the higher interest rates, it also looks like this thing with China is getting prolonged. These things are still out there."
The risk-off tone across markets highlights the fragility of investor confidence
just days after the worst week U.S. stocks since March. The uneven batch of earnings reports rekindled concern that corporate profit growth may have peaked. At the same time, the Trump administration is pressing its trade war with China, Brexit negotiations remain testy and Italian debt worries loom.
Elsewhere, the Turkish lira gained as the country took advantage of a lull in political turmoil to return to the dollar bond market. Earlier in Asia the mood was more upbeat, with Japanese, South Korean and Australian shares all posting strong gains.
Hong Kong markets were shut for a holiday.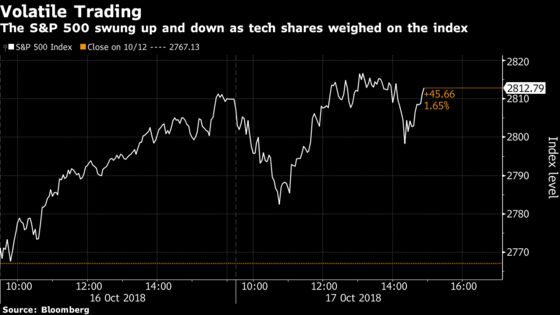 Terminal readers can read more in our Markets Live blog.
Here are some key events coming up this week:
Third-quarter GDP for China comes Friday in addition to last month's retail sales and factory output.
These are the main moves in markets:
The S&P 500 Index fell less than 0.1 percent to 2,809.21 as of 4 p.m. New York time.
The Nasdaq 100 Index rose less than 0.1 percent.
The Stoxx Europe 600 Index dipped 0.4 percent.
The MSCI Asia Pacific Index advanced 0.6 percent.
The MSCI Emerging Market Index fell 0.1 percent.
The Bloomberg Dollar Spot Index advanced 0.5 percent, the most since Oct. 3.
The euro declined 0.6 percent to $1.1504, the weakest in two weeks.
The British pound declined 0.5 percent to $1.3122.
The Japanese yen fell 0.3 percent to 112.57 per dollar.
The yield on 10-year Treasuries rose three basis points to 3.197 percent.
Germany's 10-year yield decreased three basis points to 0.46 percent, the lowest in more than two weeks.
Britain's 10-year yield dipped three basis points to 1.575 percent.
West Texas Intermediate crude decreased 2.6 percent to $70.04 a barrel.
Gold fell 0.4 percent to $1,226.60 an ounce.
--With assistance from Samuel Potter.
To contact the reporters on this story: Randall Jensen in New York at rjensen18@bloomberg.net;Vildana Hajric in New York at vhajric1@bloomberg.net
To contact the editors responsible for this story: Jeremy Herron at jherron8@bloomberg.net, Todd White