CFO Is Poised for Hearing as Tensions Simmer: Huawei Update
Chinese government-run media are painting the arrest as a politically motivated effort to contain China's, Huawei's ascendancy.
(Bloomberg) -- The arrest of Huawei Technologies Co.'s chief financial officer in Canada provoked outrage from China at a critical point in trade talks with the U.S. Wanzhou Meng faces extradition to the U.S. over potential violations of American sanctions on Iran.
Meng will have a bail hearing Friday in Canada, scheduled for 10 a.m. Pacific Time, to determine whether she is a flight risk and should remain in detention during proceedings on extradition to the U.S.
Chinese umbrage continues as state-backed media lash out at a "despicable rogue's approach"
Huawei agrees to U.K. demands to address risks in its hardware, to avert a potential British ban
The telecoms giant reassures global suppliers and partners it's business as usual with them
Huawei Is Said to Prepare $2 Billion Overhaul (8:58 a.m.)


Huawei is planning to overhaul its global software systems as it tries to avoid a ban in the U.K. and other European markets, after previous piecemeal fixes failed to assuage national security concerns, according to people familiar with the matter.
Huawei is set to commit at least $2 billion in spending to make its equipment less vulnerable to hacking and snooping, said the people, who declined to be identified because the discussions are private.
Huawei will offer to transform the way it engineers software, instead of merely applying one-off changes and workarounds in response to specific demands from companies and governments, and that work will continue until all security concerns are assuaged, they said.

Le Maire Says Huawei Welcome in France (7:20 a.m. ET)

French Finance Minister Bruno Le Maire says Huawei investments are welcome in France, and that the company is an important investor in the country. In a press conference in Paris on Friday, he also said France would consider setting limits to Huawei's investments to protect sovereignty, if necessary.
EU Commissioner Ansip Says Europe Should Worry (5:42 a.m. ET)
The risk posed by Chinese technology companies like Huawei "should worry" members of the European bloc, EU's tech commissioner Andrus Ansip told a news conference in Brussels on Friday, Reuters reported.
China Debates Pros and Cons of Retaliation (5:13 a.m. ET)
Conversations with seven Chinese officials across five government agencies, all of whom asked not to be identified, revealed a split between those focused on the economy and others who deal with national security. The first group saw a need to keep the two issues separate, while the second wanted to push back more forcefully against the U.S.
One official mentioned being personally angry because Huawei is a point of national pride for the Chinese people, and keeping the issue separate from trade talks would be difficult even if top leaders wanted to.
China has Serious Concerns About Ban Reports (3:40 a.m.)
China, addressing media reports that Japan will effectively ban the use of Huawei and ZTE gear by a swathe of government agencies and its defense force, urged the country to maintain a level playing field. "We express serious concerns over the relevant reports," foreign ministry spokesman Geng Shuang told reporters in Beijing. "We hope the Japanese side will provide a level playing ground for Chinese enterprises and refrain from hurting mutual trust and cooperation."
The comments come as countries around the world impose or consider imposing bans on the use of Huawei equipment. Donald Trump signed a bill in August banning the U.S. government's use of the company's technology based on security concerns. That same month, Australia barred the use of Huawei's equipment for 5G networks in the country and New Zealand last week did the same. The U.K. is currently debating whether to follow suit.
Huawei Makes Concessions to Avert U.K. Ban (1:30 a.m. ET)
Huawei has agreed to demands from British security officials to address serious risks in its software and equipment as it tries to avoid getting banned from supplying fifth-generation telecom equipment in the country.
The Chinese technology giant agreed to a series of technical demands that will change its practices in the U.K. at a meeting this week between Huawei and senior officials from GCHQ's National Cyber Security Centre.
Huawei Tries to Reassure Partners Around the World (12:15 a.m.)
Huawei sent a communique to its suppliers worldwide, reassuring partners that it abides by relevant laws and intends to keep its business relationships around the globe unchanged. The company added that it feels "it is unreasonable of the U.S. government to use these sorts of approaches to exert pressure on a business entity. They are against the spirit of free economy and fair competition," according to a copy of the memo obtained by Bloomberg.
Chairman Liang Hua will assume Meng's duties as CFO in the interim, according to a person familiar with the matter.
Chinese Media Rail About a "Despicable Rogue's" Act (9:07 p.m.)
Prominent government-run media are painting Meng's arrest as a politically motivated effort to contain China's -- and Huawei's -- ascendancy.
"Obviously Washington is resorting to a despicable rogue's approach as it cannot stop Huawei's 5G advance in the market," the nationalist Global Times said in an editorial.
The English-language China Daily chimed in: "One thing that is undoubtedly true and proven is the U.S. is trying to do whatever it can to contain Huawei's expansion in the world simply because the company is the point man for China's competitive technology companies."
Trump Said Unaware of Extradition Before Xi Talks (4:06 p.m.)
President Donald Trump wasn't aware the U.S. had requested Meng's extradition from Canada before he joined Chinese President Xi Jinping for dinner on Saturday, a White House official said.
Trump and Xi dined at the Group of 20 summit in Buenos Aires, where they sought to defuse the trade war the U.S. president sparked with Beijing this year by enacting tariffs on hundreds of billions of dollars' worth of Chinese imports.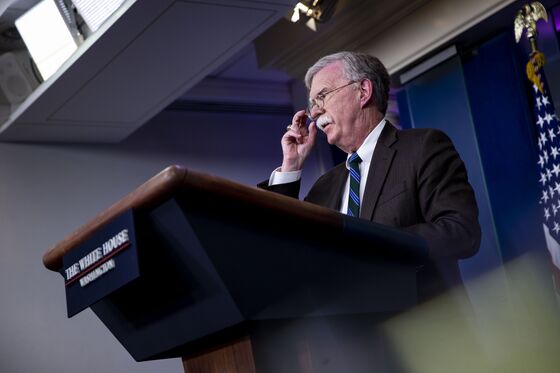 Trump's national security adviser, John Bolton, said in an interview with NPR earlier on Thursday that he knew in advance of the plan to arrest Meng.
Arrest Said Tied to Iran Transactions Via HSBC (2:47 p.m.)
Meng's arrest is part of an ongoing investigation by U.S. prosecutors into whether Huawei violated banking laws as it sought to evade sanctions against Iran by routing a series of transactions through HSBC Holdings Plc, according to a person briefed on the matter.
A federally appointed monitor of HSBC flagged the transactions involving Huawei as suspicious to U.S. prosecutors, the Wall Street Journal reported Thursday. HSBC was among several banks that have done business with Huawei and isn't a target of the probe, the newspaper said.
Rob Sherman, a spokesman for HSBC in New York, didn't immediately respond to a request for comment from Bloomberg News.
Bolton Knew in Advance of Plans to Arrest Meng (2:00 p.m.)
U.S. National Security Adviser John Bolton said he knew in advance about the plan to arrest Huawei's Meng Dec. 1, but stopped short of saying that he knew particulars during the dinner between Trump and Xi that was happening at the same time in Buenos Aires.
Bolton, speaking Thursday in an interview with NPR, said that actions of Chinese companies, particularly when it comes to intellectual property, will likely play a role in ongoing talks between the two leaders.
"I think this is going to be a major subject of the negotiations that President Trump and President Xi Jinping agreed to in Buenos Aires," Bolton said.
"We've had enormous concerns for years about the -- in this country -- about the practice of Chinese firms to use stolen American intellectual property, to engage in forced technology transfers, and to be used as arms of the Chinese governments objectives in terms of information technology in particular," Bolton said.
"Huawei is one company we've been concerned about," he added. "There are others as well."
Europe Had Already Been Weighing Huawei Crackdown (11:43 a.m.)


Officials from the U.K., Germany and France were already becoming increasingly wary of the telecom-equipment maker, according to people familiar with the matter. The U.S. has been bringing allies on board with its warnings that Huawei's gear could enable Chinese spying. Australia and New Zealand in recent months have barred Huawei's equipment from next-generation phone networks, though Europe has yet to take action.
Europe, where 5G networks will be rolled out starting next year, is a key battleground for Huawei as its largest market outside Asia, and where the company has spent more than a decade notching contracts with the likes of Deutsche Telekom AG and Vodafone Group Plc.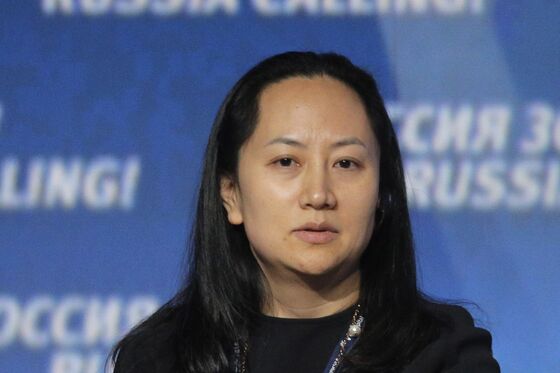 U.S. Said to Seek Extradition as Part of Crackdown (10:59 a.m.)
The U.S. will seek to extradite Meng, who was arrested in Canada on Dec. 1, but it could take more than a year if the executive puts up a legal fight, according to two people familiar with the matter.
The arrest of Meng was in the works for a while and is part of a stepped-up effort by U.S. authorities to hold Chinese nationals accountable for committing crimes, said the people, who asked not to be identified speaking about the sensitive matter. It wasn't immediately clear if the U.S. Justice Department had already started the process to extradite Meng, or when that will occur.
The people said the White House supports the extradition effort, even though it could complicate sensitive trade talks with the Chinese government.
Regardless, extraditions don't happen fast, the people said. For example, the U.S. spent more than a year trying to extradite Chinese national Su Bin from Canada for conspiring to hack military information, and even then the extradition only happened after he consented.
--With assistance from Erik Wasson, Chris Strohm, Mark Gurman, Josh Wingrove, Jennifer Jacobs, Nate Lanxon and Helene Fouquet.
To contact Bloomberg News staff for this story: Terrence Dopp in Washington at tdopp@bloomberg.net;Josh Wingrove in Ottawa at jwingrove4@bloomberg.net;Ian King in San Francisco at ianking@bloomberg.net
To contact the editors responsible for this story: Peter Elstrom at pelstrom@bloomberg.net, Molly Schuetz, Edwin Chan
With assistance from Editorial Board