U.S., China to See Who Blinks First in Economic Game of 'Chicken'
Investment sanctions could focus on Beijing's "Made in China 2025" sectors that include aerospace and robotics.
(Bloomberg) -- The U.S. and China's high-stakes game of economic chicken reaches a critical juncture in the next two weeks, as the world's largest trading partners approach deadlines on tariffs and other barriers that may determine who blinks first.
The Treasury Department on Friday is due to announce restrictions on Chinese investment in the U.S. as well as enhanced export controls, as part of the Trump administration's actions taken under Section 301 to respond to China's alleged theft of U.S. intellectual property.
President Donald Trump in March directed Treasury Secretary Steven Mnuchin to address investment concerns in critical U.S. technologies.
The administration is expected to justify imposing the curbs by declaring an economic emergency using the International Emergency Economic Powers Act, or IEEPA, people familiar with the plans said.
They said the investment sanctions will focus on Beijing's "Made in China 2025" sectors that include aerospace, robotics and new energy vehicles, among others.
The IEEPA statute allows the president to unilaterally impose the investment limits. Congress, in parallel, is working on reform legislation to the Committee on Foreign Investment in the United States, that would scrutinize inbound investment in the U.S. on national security grounds.
People familiar with the administration's plans said Treasury's investment limits are seen as complementing the CFIUS reform efforts, which are not only focused on China and don't limit investments on economic security grounds.
The people briefed on this week's action said the Treasury limits will be rolled out in phases, meaning not all Made in China 2025 sectors will be covered at once.
Meanwhile, after months of tough talk, the threats against China, Canada, Mexico and the European Union soon will turn into tariffs that are already triggering retaliation against U.S. exports. The prospect of a global trade war has roiled financial markets for months, and prompted the International Monetary Fund to warn of a growth slowdown.
"Nobody wins" a trade war, IMF Managing Director Christine Lagarde said in a statement earlier this month. "One generally finds losers on both sides."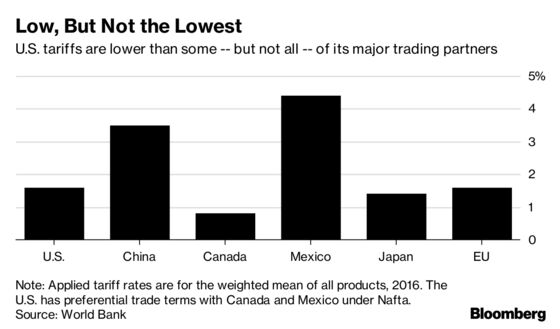 This week's possible U.S. action on Chinese investment follows a number of tariff threats between the Washington and Beijing in recent weeks.
On July 6, the U.S. is set to impose tariffs on $34 billion in Chinese goods. Tariffs on an additional $16 billion in Chinese products will go into effect after a public review period is completed. When Beijing vowed to retaliate on the same amount of U.S. goods and under the same timeline, Trump directed his U.S. Trade Representative to identify an additional $200 billion worth of Chinese goods that could be subject to a 10-percent tariff.
Podcast: How Will a Trade War Impact China's Economy?
China is trying to deescalate the conflict, the South China Morning Post reported on Sunday. President Xi Jinping's government has no plan to retaliate against U.S. companies operating in China because that would run counter to Beijing's goal of attracting foreign investment, the newspaper reported, citing two Chinese government sources.
In the U.S., though, the rhetoric has hardened. The White House Office of Trade & Manufacturing Policy, led by adviser Peter Navarro, issued a 36-page report on June 19 on "How China's Economic Aggression Threatens the Technologies and Intellectual Property of the United States and the World."
"Given the size of China's economy, the demonstrable extent of its market-distorting policies, and China's stated intent to dominate the industries of the future, China's acts, policies, and practices of economic aggression now targeting the technologies and IP of the world threaten not only the U.S. economy but also the global innovation system as a whole," the report said.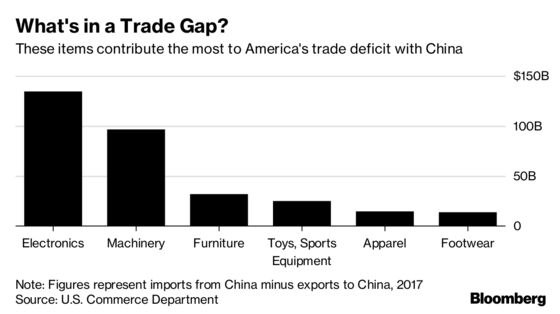 The next stage of trade escalation comes after some White House officials gauged the possibility for a visit by high-level Chinese officials before the first set of tariffs will go into effect early next month.
This week's Treasury action also follows Mnuchin's remarks in late May that "the trade war is on hold," no tariffs would be imposed, and the U.S. and China had been successfully negotiating on a deal to reduce the bilateral trade deficit. Days later, the president announced the White House was moving forward with its planned actions, including the tariffs.
Mnuchin has been less visible publicly since then, as the more hawkish wing of the administration's trade team seemed to have successfully turned the tides against the faction in favor of finding a negotiated solution for the two countries. And Trump has shown no sign that he's willing to back down.
Societe Generale, in a research note, said that the near-term implications of the trade spat -- if all threats are followed through -- could result in a drag on the Chinese economy of close to 1 percent of gross domestic product growth and 3 million to 4 million jobs, while the effect on U.S. real GDP would be a "far more modest" 0.1 percent to 0.2 percent.
"This would be painful but manageable, and the discrepancy is one reason the US is willing to push harder," the research note stated. "We are more concerned that such a shock could upset the positive reform momentum in China."
To contact the reporter on this story: Jenny Leonard in Washington at jleonard67@bloomberg.net
To contact the editors responsible for this story: Brendan Murray at brmurray@bloomberg.net, Ros Krasny