Trade Tensions Rattle U.S. Stocks, Dollar Weakens: Markets Wrap
Asian Stocks Set for Mixed Start; Lira Climbs: Markets Wrap
(Bloomberg) -- Escalating trade tensions sent U.S. stocks to the steepest drop since early April, as President Donald Trump's threats of more protectionism against major partners were met with Chinese and European vows of retaliation.
The S&P 500 Index fell 1.4 percent, though comments from National Trade Council Director Peter Navarro brought the measure back from losses that topped 2 percent. The Dow Jones Industrial Average closed below its 200-day moving average. Selling was heaviest in tech shares, with the Nasdaq 100 Index sinking 2.2 percent.
Equities tumbled around the world on reports that the Treasury department will propose limits on Chinese technology investment, straining already tense relations between the world's two largest economies. Navarro said on CNBC that there were no plans to impose restrictions, sparking a late-day rebound. China and Europe warned the escalating trade war could trigger a global recession.
The selling in American stocks spread from Asia, where equities in Shanghai and Hong Kong declined despite China's central bank freeing up liquidity in the banking system. European shares also tumbled, with the Stoxx 600 Index down 2.1 percent. Political concerns hit Italian bonds and stocks after the nationalist League party won municipal elections. Emerging-market equities slid. U.S. crude pushed toward $69 a barrel. After an early surge, Turkey's lira swung between gains and losses as traders digested Recep Tayyip Erdogan election victory.
The rising tensions have weighed on stocks ahead of the second-quarter earnings season that so far has seen estimates keep rising. Daimler AG dented that notion last week, warning that tariffs will lower its profits. Germany's DAX Index was among the worst performers of the region's stock gauges as data showed business sentiment slipped. Automakers were the big losers after more tariff threats from Trump at the end of last week.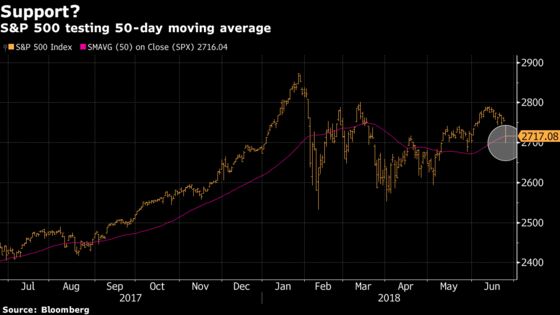 Terminal users can read more in Bloomberg's Markets Live blog.
These are key key events coming up this week:
German Chancellor Angela Merkel holds private talks with leaders of the other parties in her coalition government on refugee policy and euro-area reforms in Berlin Tuesday.
New Zealand and Indonesia monetary policy decisions on Thursday.
U.S. personal spending probably increased in May for a third month, economists forecast ahead of Friday's data.
China manufacturing and non-manufacturing PMI are due on Saturday.
Here are the main market moves.
The S&P 500 Index fell 1.4 percent as of 4 p.m. New York time, the most since April 46
The Dow slipped 1.3 percent and the Nasdaq indexes slid at least 2.1 percent.
The Stoxx Europe 600 Index declined 2 percent to the lowest since April 11 on the biggest drop since March.
The MSCI All-Country World Index declined 1.4 percent.
Emerging market shares fell 1.5 percent.
The Bloomberg Dollar Spot Index fell 0.2 percent to the lowest in more than a week.
The Japanese yen jumped 0.4 percent to 109.58 per dollar, the strongest in more than two weeks.
The euro increased 0.3 percent to $1.1691, the strongest in more than a week.
The British pound climbed 0.1 percent to $1.328, the strongest in more than a week.
The Turkish lira gained less than 0.05 percent to 4.6769 per dollar, the strongest in more than a week.
The yield on 10-year Treasuries fell one basis point to 2.88 percent, the lowest in more than three weeks.
Germany's 10-year yield declined one basis point to 0.33 percent, the lowest in almost four weeks.
Britain's 10-year yield decreased one basis point to 1.308 percent.
Gold declined less than 0.05 percent to $1,270.02 an ounce.
Brent crude decreased 1.4 percent to $74.49 a barrel.
LME copper advanced 0.1 percent to $6,792.50 per metric ton.
--With assistance from Andreea Papuc, Samuel Potter and Adam Haigh.
To contact the reporters on this story: Jeremy Herron in New York at jherron8@bloomberg.net;Eddie van der Walt in London at evanderwalt@bloomberg.net
To contact the editors responsible for this story: Jeremy Herron at jherron8@bloomberg.net, ;Christopher Anstey at canstey@bloomberg.net, Todd White