Russia Dumps Treasuries for Gold in Pivot After Sanctions
Russia sold $47.4 billion of Treasuries in April, more than any other major foreign holder of the U.S. securities.
(Bloomberg) -- Russia is rethinking what counts as a haven asset as it duels with the U.S.
Although investors usually seek safety in U.S. debt, Russia cut its holdings of Treasuries nearly in half in April as Washington slapped the harshest sanctions to date on a selection of Russian companies and individuals. In a shift Danske Bank A/S attributed to a deepening "geopolitical standoff," Russia is instead keeping up its purchases of gold.
"Some people ask whether the Russian central bank sold them to support the ruble in April, but it's about changing allocation as reserves continue to grow," said Vladimir Miklashevsky, a senior economist at Danske Bank in Helsinki. "Rising U.S. yields have fueled the sell-off."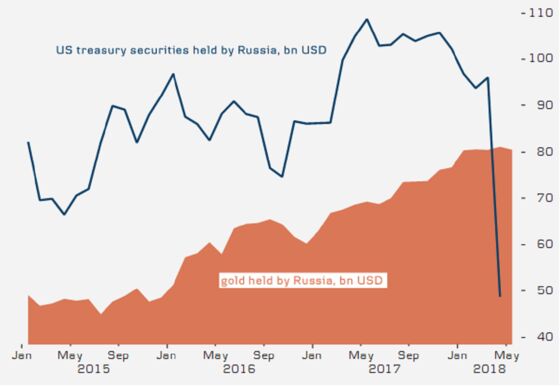 Russia sold $47.4 billion of Treasuries in April, more than any other major foreign holder of the U.S. securities, even as its reserves grew on the back of rising oil prices. Its stockpile of $48.7 billion is down from a 2010 peak of over $176 billion, ranking it only 22nd worldwide, according to data released Friday.
By contrast, the central bank keeps adding to its gold hoard, bringing the share of bullion in its international reserves to the highest of President Vladimir Putin's 18 years in power. The Bank of Russia said on Wednesday that its holdings of gold rose by 1 percent in May to 62 million troy ounces, valuing them at $80.5 billion. In May, Governor Elvira Nabiullina said gold purchases help diversify reserves.
With the geopolitical stakes so high, Russia may not be overly concerned about returns on its investment. Still, gold has underperformed U.S. debt so far this year, losing over 3 percent as the outlook for higher borrowing costs dimmed prospects for the metal, which doesn't pay interest. Meanwhile, after handing investors positive returns for the past four years straight, Treasuries have generated a loss of 1.6 percent in 2018.
Putin warned shortly after his inauguration for a fourth term as president that Russia is seeking to "break" from the dollar and diversify reserves to bolster "economic sovereignty." But according to the central bank's latest data, the U.S. currency's share in reserves climbed to nearly 46 percent in 2017, up from over 40 percent the previous year.
Considering the size of Russia's Treasury holdings, its move hardly made a dent in the $14.9 trillion Treasuries market. A bigger question is whether China -- which owned $1.18 trillion of U.S. debt as of April 30 -- will follow its neighbor's lead.
"China could do the same if the trade war gets too bad," Miklashevsky said. "That tool has been used before. In Russia, it's more about keeping the money safe from sanctions because they need it for a rainy day."
To contact the reporter on this story: Natasha Doff in Moscow at ndoff@bloomberg.net
To contact the editors responsible for this story: Samuel Potter at spotter33@bloomberg.net, Paul Abelsky, Alex Nicholson