Flaring Gas Is Cheap for This Fracker, But Not for Us
(Bloomberg Opinion) -- Hurtful as it may be to hear this, regulations exist because we don't always want to do the right thing. If we were actually the paragons of society our parents insist we are, regulations wouldn't be needed.
With this in mind, consider the case of Nine Point Energy LLC, a small, privately held oil and gas producer operating in North Dakota that entered chapter 11 in March. It has an exit plan lined up whereby lenders including AllianceBernstein Holding LP and Goldman Sachs Group Inc., who are also providing debtor-in-possession finance, would take ownership to forgive about $250 million of debt.
That deal is being held up by a dispute with Caliber Midstream LLC. When it filed for chapter 11, Nine Point rejected its contract with Caliber, which operates pipelines gathering much of Nine Point's oil, gas and water. Caliber argues Nine Point had no right to do so and is suing for $150 million of construction costs.
In the middle of all this is the actual oil and gas that Nine Point still produces while lawyers contest its fate.
Until March, Caliber took gas from roughly a third of Nine Point's wells. So Nine Point is now simply burning off more of its gas. A lot more.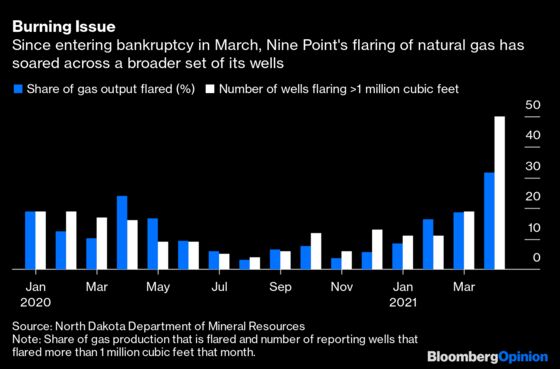 In April, the latest month for which data are available, Nine Point flared almost a third of its gas production in North Dakota, enough to cover the state's entire residential demand for five days . North Dakota has ratcheted down permitted flaring in recent years. The limit today is 9% of production, with temporary "variances" granted for situations like pipeline maintenance or initial production from a new well.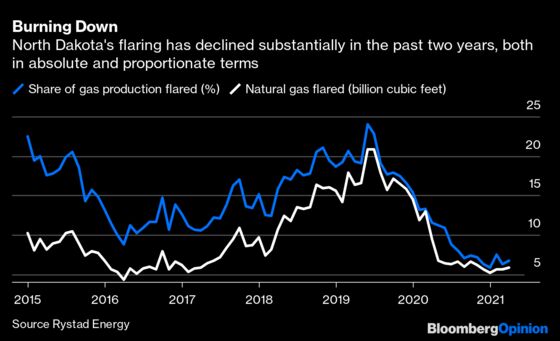 The key issue here is that Nine Point is flaring a lot more gas despite its wells being already hooked up to pipelines. As one of its lawyers said at a hearing in March, Nine Point is flaring because it's cheaper to do so:
This echoes a similar case in Texas in 2019. Back then, EXCO Resources Inc. applied for a state flaring permit despite its wells already being connected to pipelines, and the Texas Railroad Commission granted it via an unusual split vote. When challenged by the operator, Williams Cos. Inc., EXCO argued the pipeline contract was uneconomic. However, it focused that argument solely on the gas; a ridiculously narrow approach, as Williams' lawyers argued, as associated gas is just a by-product of much more valuable oil.
This is relevant because roughly four-fifths of Nine Point's production in North Dakota is oil. Assuming that's crude oil, then based on April's output and using average regional prices, the implied oil revenue is more than $18 million. Meanwhile, the gas sold by Nine Point comes to less than a million, while the implied lost revenue on the flared gas amounts to less than half a million . It's tough to argue flaring was make-or-break for the overall economics. Rather, it looks like collateral damage as Nine Point seeks to reject Caliber's terms.
North Dakota's Department of Mineral Resources placed production restrictions on two of Nine Point's highest-flaring wells in June based on their performance in March  — that is, before flaring soared in April. For its part, Nine Point says it "has been and will remain compliant with all required regulations," has installed generators onsite to use some of the gas and has "made progress from April." However, Chief Executive Dominic Spencer indicated at a hearing last week that flaring in May was still above 25%.
This is an egregious situation. Bankruptcy is not considered a "variance" or force majeure event by North Dakota. As Williams' lawyers argued with regards to EXCO, if producers feel free to flare when it's financially expedient, then it rather makes a mockery of the whole idea of regulations. Producers will work hard to capture gas when that is profitable. It's precisely those times when it's unprofitable — even if only in narrow terms — that necessitates flaring restrictions in the first place. EXCO's permit was controversial because it effectively changed the regulator's priority from conserving the state's own resources to protecting the producer's bottom line.
In a bankruptcy situation, the flared gas represents not just a waste of natural assets for the state but also the financial assets creditors aim to recover. Even if the bankruptcy court isn't there to enforce conservation, assets due to creditors are going up in flames at Nine Point's wells and raising the risk of wells being restricted or shut in.
Regulators may yet intervene more forcefully. Nine Point's lenders, positioned to take ownership, should also act. For example, AllianceBernstein, which is leading the DIP financing, touts the sort of climate-related aspirations that have become de rigueur on any major corporate website. Yet how does that square with financing a chapter 11 process where the debtor's emissions have soared just so it can renegotiate a contract? In the past, such considerations may not have played any part in this situation. But those aspirations reflect a changed climate, or should.
As for the onus being on producers to actually capture the stuff they produce, that concept has been around for more than a century. If they can ignore it just to avoid the cost, that cost doesn't disappear; it's just paid by society as a whole instead. Which court hears that case?
Based on average residential consumption of 33.7 million cubic feet per day in the 12 months through March 2021 (source: Energy Information Administration).
Comments made by Christopher Harris of Latham & Watkins LLP, representing Nine Point Energy at a hearing in the U.S. Bankruptcy Court (Delaware) on March 17, 2021.
This is calculated using April 2021 production data from North Dakota's Department of Mineral Resources of 300.6 thousand barrels of oil, 377.2 million cubic feet of gas sold and 169.0 million cubic feet flared. In the absence of data on the breakdown of oil between crude and natural gas liquids, I assume it is all crude oil. I then multiply by the monthly average benchmark prices - Bakken Guernsey for oil and Opal, Wyoming for gas - to estimate revenues.This obviously doesn't take account of any potential hedging impacts or spreads versus regional benchmarks. Moreover, at least some of Nine Point's oil production will consist of lower-value natural gas liquids. Even so, the gas economics remain marginal compared to Nine Point's overall "barrel."
Proposed restrictions on a third well were lifted on June 1.
Spencer's response to a question:"I didn't see the total flare for the month of May just yet, but I would imagine that there was more than 25 percent flare." Delivered in a hearing of the U.S. Bankruptcy Court (Delaware) on June 25, 2021.
For example, Texas' constitution was amended in 1917 specifically to address the then widespread use of flaring and venting, declaring the conservation and development of the state's natural resources as "public rights and duties." As Williams' lawyers argued, producers have a vested interest in capturing and selling gas when it is profitable, but are tempted to flare when it is not.In doing so, they cited a case dating back to 1949, Railroad Commission of Texas v. Flour Bluff Oil Corp.Upholding a ruling of the commission not to issue a permit, the Austin Court of Appeals wrote:"If the prevention of waste of natural resources such as gas is to await the time when direct and immediate profits can be realized from the operation, there would have been little need for the people of Texas to have amended their Constitution by declaring that the preservation and conservation of natural resources of the State are public rights and duties and directing that the Legislature pass such laws as may be appropriate thereto (Sec. 59a, Art. 16, Tex. Constitution, Vernon's Ann.St.), for private enterprise would not need the compulsion of law to conserve these resources if the practice were financially profitable."
This column does not necessarily reflect the opinion of the editorial board or Bloomberg LP and its owners.
Liam Denning is a Bloomberg Opinion columnist covering energy, mining and commodities. He previously was editor of the Wall Street Journal's Heard on the Street column and wrote for the Financial Times' Lex column. He was also an investment banker.