Checkup for $30, Teeth Cleaning $25: Walmart Gets Into Health Care
While Walmart did take steps to bolster its pharmacy sales, other retailers were more aggressive.
(Bloomberg Businessweek) -- The main drag of Calhoun, Ga., a town of about 16,000 an hour's drive north of Atlanta, is dotted with pawnshops, liquor stores, and fast-food joints. Here, as in thousands of other communities across America, the local Walmart fulfills most everyday needs—groceries, car repairs, money transfers, even hair styling. But now visitors to the Calhoun Walmart can also get a $30 medical checkup or a $25 teeth cleaning, or talk about their anxieties with a counselor for $1 a minute.
Prices for those services and more are clearly listed on bright digital billboards in a cozy waiting room inside a new Walmart Health center. Walk-ins are welcome, but most appointments are booked online beforehand. No insurance? No problem. Need a lab test on a Sunday? Sure thing.
Walmart "care hosts" take customers from the waiting area to one of 12 care rooms in the 6,500-square-foot facility. Afterward, patients are steered to the in-store pharmacy. While they wait for their prescriptions, they can visit the produce section and grab some veggies recommended by the doctor. Later, there's even a free Zumba class in the community room.
Welcome to health care, Walmart style.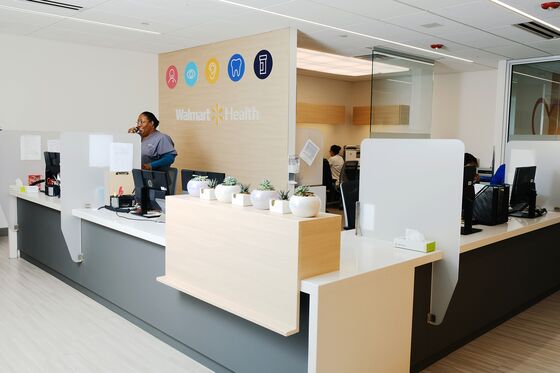 The center in Calhoun, along with one about an hour south in Dallas, Ga., represents the retailer's attempt to grab a bigger slice of the nation's $3.6 trillion in health spending by harnessing its greatest asset—the 150 million people coming through its 4,756 stores each week. While Walmart hasn't said how many clinics it plans to build, it's signaled that the health center expansion is one of its top growth initiatives. The move pits Walmart against rivals such as CVS Health Corp., which is rolling out its own "HealthHubs," and creates a new front in Walmart's battle against Amazon.com Inc., which also wants to disrupt the U.S. health-care system. "We have an opportunity to help the country and to build a stronger business," Walmart Chief Executive Officer Doug McMillon told investors in December.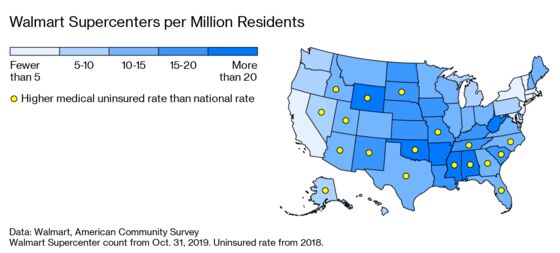 It won't be easy to persuade Americans to entrust their health to a big-box discount retailer, especially one that still sells unhealthy items such as cigarettes and guns and has long been criticized for skimping on the health-care needs of its own employees.
Even McMillon, whose father was a dentist, admits he "just can't imagine being a dentist working at Walmart," and he's not alone. When Dee Artis saw an online job listing for a Walmart Health center, she didn't believe it: "I thought it was spam," she recalls. She's now the assistant clinical administrator at the location in Dallas, an Atlanta suburb, which has been busy since opening in September and has drawn patients—many of them uninsured—from towns as far away as a 75-minute drive. "I knew it would be big because hey, this is Walmart," Artis says. "But I didn't know exactly what it was going to be."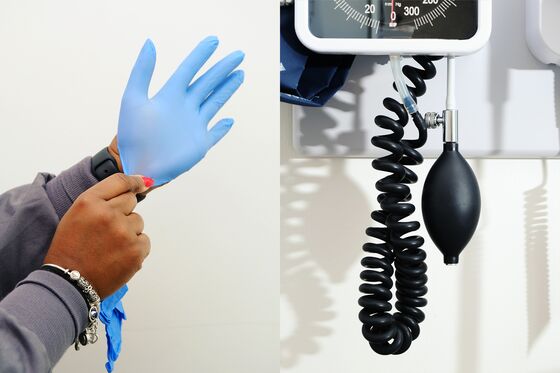 The man responsible for determining that is Sean Slovenski, Walmart's president for U.S. health and wellness, who joined the retailer in 2018 after stints at insurer Humana Inc., where he oversaw innovation, and a health-care joint venture between Intel Corp. and General Electric Co. Now he's in charge of a $36 billion division that already fills upwards of 400 million prescriptions annually and operates 3,000 vision centers.
Walmart opened its first pharmacy in 1978, but founder Sam Walton's desire to adapt his low-price retail philosophy to the opaque world of health care kept playing second fiddle to other growth initiatives. In the 1990s, Walmart focused on building massive Supercenters to break into the grocery sector, which accounted for 56% of its $332 billion in U.S. sales in 2018, the most recent data available. When it came to health care, the company mainly looked to trim its own expenses. Walmart was pilloried after a 2005 internal memo surfaced that said a "significant number" of associates and their children were either on Medicaid or uninsured because the costliness of Walmart's own health plan made enrollment unattractive for many. Health care, the memo concluded, was a "reputation issue," not a business opportunity.
While Walmart did take steps to bolster its pharmacy sales, such as offering generic drug prescriptions for as little as $4 starting in 2006, other retailers were more aggressive. That year, CVS paid about $22 billion for Caremark, a prescription-benefit management company that acts as a middleman between drugmakers and pharmacies. Walmart's other big drugstore rival, Walgreens, acquired New York's Duane Reade in 2010 and European pharmacy chain Alliance Boots in 2014. Amazon, meanwhile, was exploring the idea of using drones to deliver packages—which could one day allow it to airlift prescriptions to the growing ranks of homebound seniors.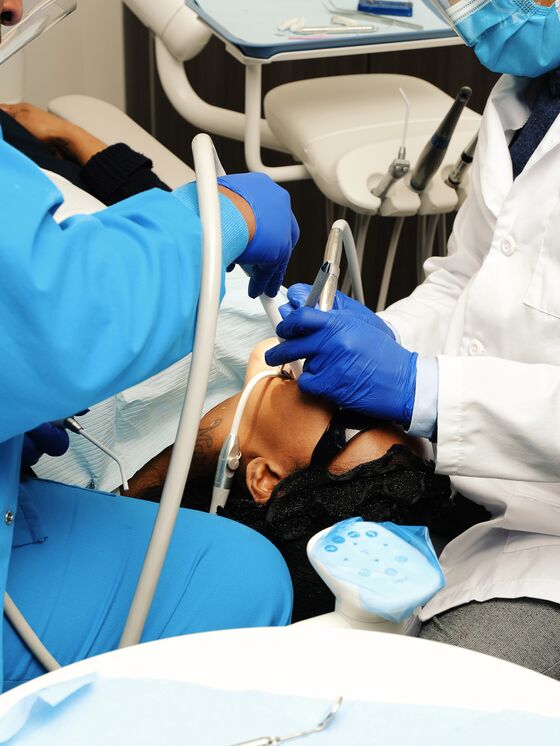 A year after McMillon took over as CEO in 2014, the company hired consultants at McKinsey & Co. to help determine which wellness areas it should focus on. But again, health care took a back seat to another strategic priority: e-commerce, highlighted by the company's $3.3 billion acquisition of Jet.com in 2016.
By the time Slovenski arrived, Walmart had finally made progress on its employees' health care by aligning with blue-chip organizations such as the Cleveland Clinic to provide complex procedures like back surgery at no cost for employees. And it's delivered about 4.4 million free health screenings over the past six years—giving it a window into ailments its shoppers grapple with, like diabetes.
Revamping its small group of health clinics was the next step. A decade ago, in-store retail clinics were all the rage, promising to handle less acute situations such as flu shots and sore throats while also boosting sales of prescriptions and over-the-counter drugs. But the cramped clinics, staffed by nurse practitioners, never generated enough business to cover their fixed costs, and drew the ire of the American Medical Association, which argued they delivered subpar service. Six years after opening its first "Care Clinic," Walmart has just 19 in three states. "If you have pink eye, clinics are great. But they don't really do anything to address the broader health-care needs of people in the community," says Marcus Osborne, Walmart's vice president for health and wellness transformation. "You're not helping someone who's diabetic. It's a very limited kind of value."
The two health centers opened in Georgia since last summer are a leap forward. Rather than tucked in a corner of a cavernous Supercenter, they have separate entrances visible from the parking lot. They're run by doctors, with plenty of exam rooms to support a steady stream of patients. Paperwork is almost nonexistent because many appointments don't involve insurance, and administrative functions such as scheduling and billing have been outsourced to a back-office specialist called Zotec. (Walmart accepts insurance, but patients are often better off paying the flat cash fee because they don't have to pitch in copayments or satisfy plan deductibles.)
In addition to medical, dental, and eye care, the centers also provide X-rays, hearing checks, and diagnostic lab tests for things like blood glucose and lipids. The range of services can improve the quality of care: If a patient comes in to see the dentist only to learn his toothache is caused by a sinus infection, he can immediately be handed over to one of the center's physicians.
Whatever a patient needs, she knows the price upfront—a huge departure from how health care usually works and a way to avoid the surprise billing by providers that can stick even patients with health insurance with unexpectedly high out-of-network charges. "If you don't know how much something is going to cost, that's scary and intimidating," says Alexandra Drane, a health-care entrepreneur who's worked as a cashier at Walmart. "The first thing you see at Walmart Health is the price list."
Walmart set those prices by estimating the cost of common services, including copays and deductibles, then coming in well under that, often half as much. It also is legendary at squeezing costs out of business processes. "We have taken advantage of every lever that we can to bring the price of doing all of this down more than any hospital or group practice could humanly do," Slovenski says. "Our goal, just like in the stores, is to get the prices as low as we can."
Slovenski won't disclose how many patients have come through the Georgia centers, only saying that volume is "substantially higher than our expectations." He says Walmart's model lowers the cost of delivering service by about 40%, by reducing what he calls "all that administrative baloney." Some physicians like that aspect, too: Dr. Janki Patel, who works in the Calhoun clinic, says she spends about 25% less time on paperwork than she did when she worked in rural hospitals around the Southeast. "I don't feel rushed and can spend more time with patients," she says. "Walmart is lifting that burden off of my shoulders."
It's also filling a void for many locals. In Dallas, a local nonprofit clinic staffed by volunteers is open only two days a week, from 8:30 a.m. to noon. That's not enough for Joy Ivey-Obeng, a 28-year-old working on her master's degree who's been uninsured since leaving her last job in July. She recently needed some lab work done quickly over a weekend and visited the Walmart clinic on a Saturday, paying $42, about $10 less than other local options. Afterward, she filled her prescription at Walmart even though it would have been cheaper at the Kroger supermarket down the road. "I was already there, I didn't want to go elsewhere," she says.
Walmart is counting on that kind of synergy. "The obvious retail implication of Walmart's move is greater traffic to its stores," says Simeon Gutman, an analyst at Morgan Stanley. Foot traffic is the lifeblood of any brick-and-mortar retailer, and health services could give more shoppers a reason to visit stores in an era when shopping is increasingly done online.
"They have the ability to be one of the largest disruptive forces in health care by addressing some of health care's major issues, including access to care in rural communities, price transparency, and even, to some extent, social determinants of health," says Paul Schuhmacher, managing director of the health-care practice at AArete, a global management consulting firm. "We could be seeing as a norm people going into Walmart for their health care in a lot of communities in this country."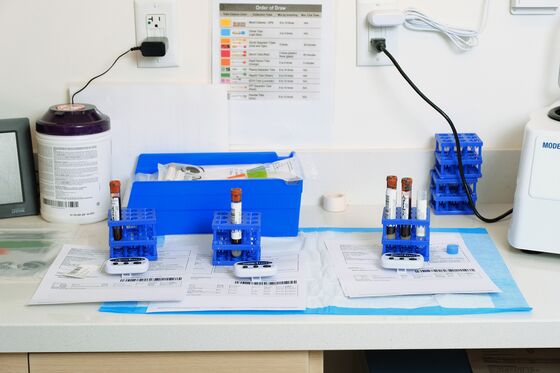 Still, Walmart won't become a health-care destination overnight. It will have only a handful of locations by the end of the year—the third will open this summer in Loganville, about 45 minutes east of Atlanta—and Slovenski won't say how many he envisions. And only 11% of Americans polled by researcher CivicScience in September said they would "likely" visit a Walmart clinic. CVS plans to have 1,500 HealthHubs in place by the end of 2021 and can leverage its ownership of health insurer Aetna, which it bought in 2018, to funnel patients into those locations.
It also remains to be seen whether low-cost health services can reach a level of profitability to satisfy the top brass at Walmart, who've spent the past year streamlining the company's unprofitable online operations. "It was clear from the get-go that this has to pay for itself," Slovenski says. "It has to be a profitable business on its own." He won't say when that will happen. Gutman, the Morgan Stanley analyst, says "the potential impact on margins is unclear."
Yet if Walmart's goal is to be the front door of health care in America, one thing in its favor is that it already controls so many doorways to American consumers. "Everyone says, 'Look out, Amazon is getting into health care,' but it's way more scary if Walmart really puts these pieces together," says Chas Roades, co-founder of consultant Gist Healthcare. "Now they're really getting serious about it." —With Angelica LaVito and Michelle Cortez
 
Read next: More Spending on Health Care Means Less on Clothing
To contact the editor responsible for this story: James Ellis at jellis27@bloomberg.net
Walmart Loses Another Home-Delivery Provider Amid Amazon Clash