WhatsApp Message Destroys 71% of Indian E-Commerce Firm's Value
Infibeam Avenues lost 71 percent of its market value on a single day after WhatsApp message circulation raising concerns.
01 Oct 2018, 09:42 AM IST
(Bloomberg) -- India's Infibeam Avenues Ltd. lost 71 percent of its market value on a single day after a WhatsApp message circulating among traders raised concerns about the online iPhone and iPad retailer's accounting practices.
Speculation mounted before a shareholder meeting on Saturday after a message attributed to brokerage Equirus Securities Pvt. began to be distributed on WhatsApp, said Bhavin Mehta, an analyst at Dolat Capital Market Ltd. The message was sent a few months ago by an Equirus analyst to some clients and resurfaced on the messaging platform Thursday, people familiar with the matter said, asking not to be identified as they aren't authorized to speak on the issue.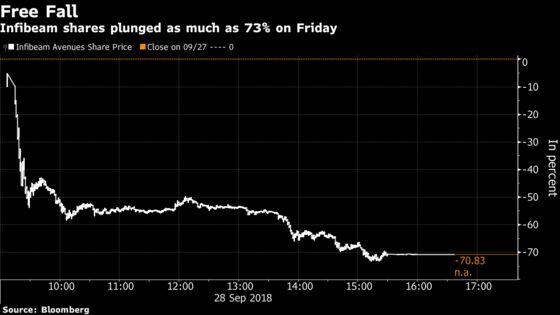 The record slump on Friday prompted the company to make a voluntary clarification to exchanges saying there was no pending information or announcement that may impact its share price. The WhatsApp message alleged, among other things, that the company had given interest-free and unsecured loans to its units, the people said. Infibeam gave unsecured, interest-free loans of 1.35 billion rupees ($18.6 million) to related firms for business operations as of March 31, according to the company's annual report.
The company, in a separate filing after the markets closed, said it had lent to unprofitable unit NSI lnfinium Global Pvt. The subsidiary's net worth -- currently negative -- has improved in the past two financial years, it said. No founder has sold stake and the decline in share price "is purely market driven and that the company has no control over the same," according to the statement.
"The fact the shares were closely held with hardly any institutional ownership added to the weakness in the counter after the WhatsApp message," said Abhimanyu Sofat, head of research at IIFL Securities Ltd.
Infibeam operates an e-commerce platform in the business-to-business and business-to-consumer space, according to its website. In a separate August note, Equirus said the company's e-commerce business was adding 1,500 merchants every month, with revenues growing 100 percent annually in the past five years.
An external spokesman for Equirus declined to comment on the matter when reached by phone. Vishal Mehta, managing director at Infibeam, didn't respond to calls and a message on his phone. Infibeam is one of two authorized online retailers for Apple Inc.'s iPhone and iPad product lines.
The stock collapsed as much as 73 percent before closing 71 percent lower at 58.45 rupees on Friday in Mumbai.
To contact the reporters on this story: Santanu Chakraborty in Mumbai at schakrabor11@bloomberg.net;Ameya Karve in Mumbai at akarve@bloomberg.net
To contact the editors responsible for this story: Divya Balji at dbalji1@bloomberg.net, Abhay Singh, Pradeep Kurup