Traders Cast Doubt on More Fed Hikes as Even December Odds Ease
Traders Starting to Doubt Fed Will Raise Rates Even Once in 2019
(Bloomberg) -- Traders of U.S. interest-rate futures are rapidly losing confidence that the Federal Reserve will continue to raise rates, with a near-certain hike in December now coming into doubt and almost no tightening expected for next year.
The central bank has raised the federal funds target range eight times since December 2015, and is still expected to increase it again on Dec. 19. But the market-implied expectation for next year edged below a quarter point last week after Fed Chair Jerome Powell said the policy rate is approaching neutral, and has crumbled this week amid a slide in global equities. A massive repricing in short-term interest rates has also shifted chances of a December rate hike lower, with just 18 basis points of a hike now priced in. Policy makers' latest set of forecasts, from September, anticipates three more increases in 2019.
Overnight index swaps, which are linked to swings in the fed funds effective rate, signal only about a 60 percent probability of the central bank lifting the rate by a quarter point when they gather later this month.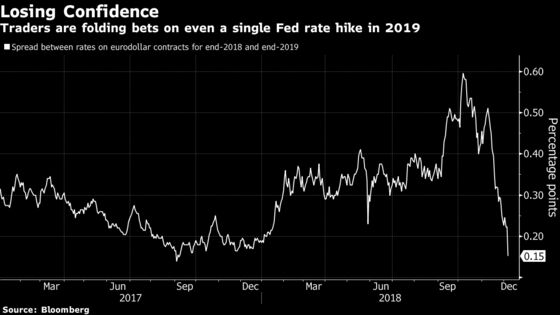 In the eurodollar futures market, the rate gap between the contract that expires at the end of this year and the December 2019 contract has narrowed to about 14 basis points, indicative of eroding conviction in even a single quarter-point increase next year. Two months ago, the spread was about 60 basis points -- meaning after a December 2018 increase the Fed would lift rates by at least two more in 2019.
U.S. stocks plunged on Tuesday after President Donald Trump, who had said China had agreed to remove tariffs on U.S.-made cars, acknowledged there was no deal and one might not be possible. They resumed falling Thursday as U.S. markets reopened following a national day of mourning for former President George H.W. Bush. The S&P 500 erased its gain for 2018 and the two-year Treasury yield sank nearly 10 basis points to 2.70 percent.
"If the risk markets continue down this direction, then the recent Powell comments about the policy rate being just below neutral will have been the first signal that the current tightening cycle may be nearing an end," said Sean Simko, head of fixed-income portfolio management at SEI Investments Co.
Powell in a Nov. 28 speech said the policy rate is "just below'' an estimated range for the neutral level, which is neither stimulative nor restrictive.
Vanguard Group, the largest mutual fund company, says the Fed will be done after raising rates twice next year following an increase this month. Laurence Meyer of Monetary Policy Analytics, a former Fed governor, changed his call to two rate increases in 2019 from three, he said in a Nov. 30 note.
Overnight indexed swaps, another interest-rate forecasting market, show expectations for the Fed's rate target peaking after additional hikes totaling less than 40 basis points in December 2019, then declining to 34 basis points above the present level by mid-2020. The implication is that if the Fed winds up raising rates in 2019, there's a chance it will lower them during the first half of 2020.
--With assistance from Rich Miller, Edward Bolingbroke and Charles Stein.
To contact the reporter on this story: Liz Capo McCormick in New York at emccormick7@bloomberg.net
To contact the editors responsible for this story: Benjamin Purvis at bpurvis@bloomberg.net, Jenny Paris