Fortis Directors Deserve a Discharge Slip
(Bloomberg Opinion) -- Fortis Healthcare Ltd. has to admit a new owner to keep the lights on. Before it does, though, India's second-largest hospital chain must write four of its board members a discharge slip.
The country's serious fraud office and the stock-market regulator are investigating Fortis even as it tries to sell itself to one of five serious suitors, which include Malaysian, Chinese and homegrown Indian buyers, as well as American private equity.
The founders of Fortis helped themselves to at least $76 million of the company's cash, Bloomberg News reported in February. By the end of this month, Fortis is legally required to produce annual financial results. Just how the board plans to pull that off without locating the missing money is beyond me, especially when it doesn't even seem to be making any effort to recover the funds. 
But a more puzzling question is, why are some of the original directors still hanging around? 
Minority shareholders East Bridge Capital and Jupiter Investment Management Group have called for a shareholder vote on Tuesday to seek the ouster of four of them on the grounds of a failure in corporate governance. While I was prepared to give directors the benefit of the doubt a couple of months ago, their decision to recommend a joint bid by two Indian business families — ignoring the counsel of financial advisors Standard Chartered Plc and Arpwood Capital Pvt — makes their continuance a farce.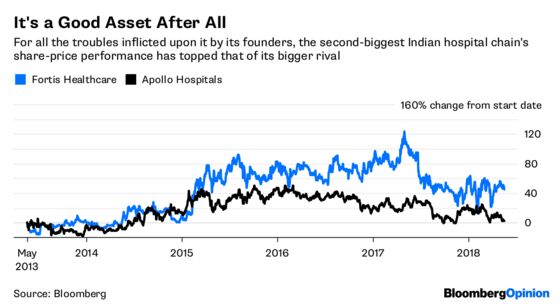 Leaving aside its temporary cash crunch, Fortis is a prized asset. It's drawn interest from Malaysia's IHH Healthcare Bhd., KKR & Co.-backed Radiant Life Care Pvt, China's Fosun International Ltd. and Manipal Health Enterprises Pvt, an Indian hospital operator backed by private equity firm TPG Capital LP. For the board to dump all of them and recommend investors take the offer put forward by the Burman and Munjal families makes no sense.
For a start, they've no experience in healthcare. Even the three new independent directors who've come on board since the founders' departure were unimpressed by their proposal. It neither offers a cash exit to investors, nor does it commit to pump even half as many funds into the business as IHH. While Manipal would only invest about 21 billion rupees ($309 million), compared with IHH's 40 billion rupees, it's promised to do so at 180 rupees a share. That's the most anyone has put on the table. 
Fortis's board has said it wants a binding offer to infuse cash quickly. That's a flimsy defense, considering IHH is asking for only one week of due diligence to make its offer unconditional. And while Manipal's proposal to merge its own southern Indian hospitals with Fortis's northern-based operations is more complex, the synergies mustn't be dismissed. With almost 13,000 beds, an expanded Manipal would be a third bigger than Apollo Hospitals Enterprise Ltd., the current market leader.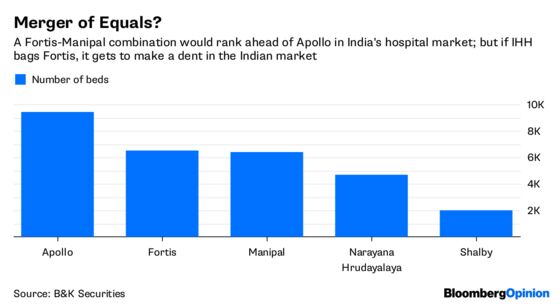 If they were convinced that IHH and Manipal were the most compelling propositions, the new independent directors could have tried to stall a decision on whom to back until the May 22 vote was out of the way. That time could have been used by IHH for its due diligence, though exactly what the Malaysians hope to discover in that limited period is a mystery. As for the outcome of the poll, whether foreign investors weigh in on the side of East Bridge and Jupiter — and whether they're supported or opposed by Yes Bank Ltd., now a 15 percent owner — will be a decisive factor.
Last Thursday, IHH extended its offer by two more weeks, after Manipal sweetened its bid. The suitors don't want to throw in the towel. At least not before shareholders decide the fate of the four directors installed by founders Malvinder and Shivinder Singh, when the brothers were still running Fortis. Two of the four resigned Sunday.
Of the remaining two, Harpal Singh, who is Malvinder's father-in-law, quit on Monday. Another, Brian Tempest, was a former CEO at drugmaker Ranbaxy Ltd., the root of the siblings' troubles. (Daiichi Sankyo Co. is enforcing a $550 million arbitration award against the Singhs. In 2008, they sold Ranbaxy to the Japanese company without coming clean about a U.S. probe that would soon cripple its export business.) 
With even Shivinder Singh now complaining to the board about the process, the four directors' joint note saying they're working in the best interests of all shareholders rings hollow.
If the other two also check out now, they won't be missed.
To contact the editor responsible for this story: Katrina Nicholas at knicholas2@bloomberg.net