Flows to India Stock Funds Buck Selloff to Reach 11-Month High
Flows to India Stock Funds Buck Selloff to Reach 11-Month High
Inflows into Indian stock funds climbed to a 11-month high in February even as fear gripped global financial markets rattled by the coronavirus outbreak.
Equity plans took in 108 billion rupees ($1.4 billion), according to data released by the Association of Mutual Funds in India. That's the highest since March last year and the third straight month of increased inflows.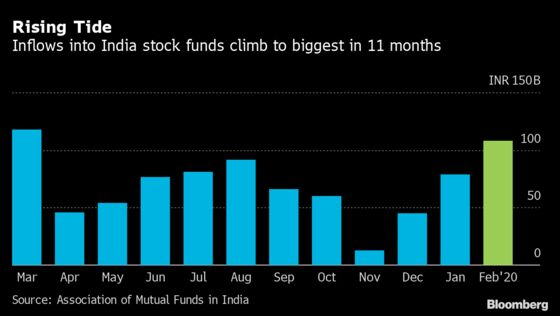 The resilience of fund flows will be tested this month as India gets swept up in the virus-fueled rout that's erased trillions of dollars in global stock-market value in recent days. On Monday, the S&P BSE Sensex slumped the most since August 2015, and the rupee weakened to the lowest since October, as local assets tumbled with peers across the world.
"The dip in February was seen as a short correction to participate in the rally but the deepening shocks in global markets can curtail this for March," said Vidya Bala, head of research and co-founder at Chennai-based Primeinvestor.in.
A flight to safety was seen in the robust flows to gold exchange-traded funds. The products got 14.83 billion rupees ($201 million), the most since they were first sold to local investors in 2007.
READ: Gold ETF Flows to India Funds Jump by Record on Haven Demand
"Inflows into gold ETFs is in line with demand for safe-haven assets seen around the world," said N. S. Venkatesh, chief executive officer at the AMFI. "March sell-off may have some impact on the fund industry as investors reassess the risks."
Contributions from regular savers into equity funds were little changed at 85 billion rupees. Total industry assets stood at an average 28.3 trillion rupees, according to AMFI data.
--With assistance from Swansy Afonso.
To contact the reporter on this story: Nupur Acharya in Mumbai at nacharya7@bloomberg.net
To contact the editors responsible for this story: Lianting Tu at ltu4@bloomberg.net, Ravil Shirodkar