Democrats Eye 'Internet Bill of Rights' If They Win the House
Democrats Eye `Internet Bill of Rights' If They Win U.S. House
(Bloomberg) -- Google, Facebook Inc. and other online companies can expect greater scrutiny and possibly legislation from a Democratic-led Congress, a Silicon Valley lawmaker close to the party leadership said.
Representative Ro Khanna, whose California district is home to companies including Apple Inc. and Intel Corp., said in an interview that episodes like the leak of Facebook users' data to Cambridge Analytica and last year's breach of consumer information by Equifax Inc. had amounted to a "wake-up call" that rules are needed.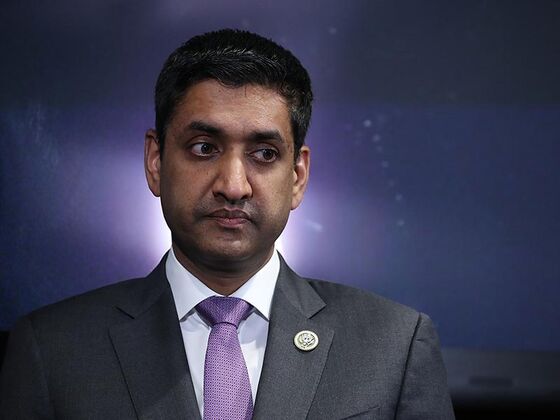 "For the first time in this last year or two we're having to question a sense of tech Utopianism and realize that tech is amoral -- that it can be used for extraordinary means, but it also can be exploited," Khanna said.
Social media and internet companies have drawn the scrutiny in the U.S. and the European Union over the way they handle users' data as well as their role in the spread of disinformation to influence the 2016 U.S. presidential election and the U.K.'s Brexit vote the same year.
"We need to figure out, what do our rights and responsibilities look like online," Khanna said. "Citizens need to be protected not just from government overreach, but from the overreach of corporate actors."
Minority Leader Nancy Pelosi asked Khanna to study tech issues, and among those he consulted was Tim Berners-Lee, the inventor of the World Wide Web.
The request followed congressional testimony in April from Facebook co-founder Mark Zuckerberg, when some senators seemed to have a slim grasp of how the social network operates. "There was an embarrassment at the senators' questioning" and a sense of "a knowledge gap in the United States Congress," Khanna said.
Khanna drafted a 10-point program he calls an internet bill of rights. He said he's "hopeful" of action in the first 100 days of the next Congress, an aspiration that assumes Democrats win the House.
"I do think they can do some simple things right away" such as establishing the right to be notified if your data is breached "within a reasonable time period," Khanna said.
Also on the short list: consumers being able to learn who has access to their data. "It should be easy for you to figure out what Facebook knows about you and who they share that information with," Khanna added.
"What I think is critical is that Congress takes action," Khanna said. "It's not fair in some sense to blame 30-something entrepreneurs for the failure to protect privacy when Congress has been derelict. The real culprit is the United States Congress," which "hasn't passed those laws."
"There is going to be an appetite" among Democrats "to do something," Khanna said.
"Silicon Valley recognizes the need for this legislation," Khanna said. "Public trust is their largest asset. So the thoughtful leaders there understand that public trust shouldn't be squandered, and that they need to answer and reflect about the abuses of these platforms."
Khanna said legislation that passes the House could find success in the Senate, where compromise is needed for most measures to succeed.
Republicans, too, have said they are moving toward legislation.
"It is increasingly clear that industry self-regulation in this area is not sufficient," Senator John Thune, a South Dakota Republican and the chairman of the Senate Commerce Committee, said at a hearing last week.
To contact the reporter on this story: Todd Shields in Washington at tshields3@bloomberg.net
To contact the editors responsible for this story: Jon Morgan at jmorgan97@bloomberg.net, John Harney