China Phone Giant Xiaomi May Be Twice as Expensive as Apple
Chinese serial entrepreneur Lei Jun has been compared with Steve Jobs. Now its the turn of his company.
(Bloomberg) -- Chinese serial entrepreneur Lei Jun has been compared with Steve Jobs. Now, analysts are saying the smartphone giant he built could be twice as expensive as Apple Inc.
Xiaomi Corp. deserves to trade at a premium to global phone brands due to its market-share gains and faster growth trajectory, according to research from Morgan Stanley, one of banks leading its Hong Kong IPO. The Beijing-based company has a fair value of about $65 billion to $85 billion, translating into around 27 times to 34 times forecasts for its 2019 adjusted earnings, Morgan Stanley wrote in a report this week.
That's roughly double Apple's valuation of 14.5 times estimated 2019 adjusted earnings, data compiled by Bloomberg show. Xiaomi should also fetch richer multiples than rival smart hardware makers like Fitbit Inc. and GoPro Inc., as well as some major Chinese internet firms including Alibaba Group Holding Ltd. and Baidu Inc., according to Morgan Stanley.
While such pre-deal research is prepared by a bank's equity analysts, not their investment bankers, it may provide a clue into how Xiaomi plans to sell its growth story. Xiaomi, which has been planning to seek about $10 billion, is considering raising about half that from its Hong Kong IPO and the other half from an offering in mainland China, people with knowledge of the matter have said.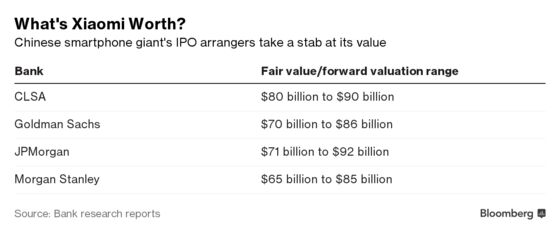 Xiaomi could be valued at as much as $92 billion given the strong growth in its cash flows beyond 2020, JPMorgan Chase & Co. analysts wrote in a separate report. Its success is based on offering "world-class products" at low prices while selling high-margin services, according to CLSA Ltd.
Adjusted earnings before interest and taxes at Xiaomi could rise at a compound annual growth rate of 58 percent annually over three years, hitting 29 billion yuan ($4.5 billion) by 2020, CLSA estimates. The Chinese company could boost smartphone shipments 42 percent this year to 130 million units, analysts at CLSA wrote in a research report.
They may rise further to 179 million shipments in 2019 and 218.6 million units in 2020, CLSA said. That's in the neighborhood of the 216.8 million iPhones shipped by Apple in its latest financial year.
Xiaomi has emerged as the gateway to about 100 million users in China, who are monetized via a suite of online services, Goldman Sachs Group Inc. analysts wrote in their own report. Analysts at the bank, one of Xiaomi's IPO sponsors, gave Xiaomi a forward equity valuation range of $70 billion to $86 billion. That translates into 26 times to 32 times its forecast adjusted 2019 net income, according to Goldman Sachs.
"Xiaomi integrates the internet user experience with hardware to offer an unrivaled user experience," Goldman Sachs wrote in the report. "The company's hardware aggregates traffic, its software builds platforms, and its internet services generate revenue and profit."
The Chinese company is coming to market as the smartphone industry plateaus: replacement cycles are lengthening, even as more mature markets approach saturation. Xiaomi is trying to increase higher-margin services as a proportion of revenue.
CLSA, Goldman Sachs and Morgan Stanley are leading Xiaomi's Hong Kong IPO as joint sponsors, according to an exchange filing last month. Credit Suisse Group AG, Deutsche Bank AG, JPMorgan and six Chinese banks are also helping arrange the share sale, people with knowledge of the matter have said.
--With assistance from Edwin Chan.
To contact the reporters on this story: Bei Hu in Hong Kong at bhu5@bloomberg.net;Crystal Tse in Hong Kong at ctse44@bloomberg.net
To contact the editors responsible for this story: Ben Scent at bscent@bloomberg.net, ;Sree Vidya Bhaktavatsalam at sbhaktavatsa@bloomberg.net, Timothy Sifert, Robert Fenner