China Slams Brakes on U.S. Crude Oil Imports
First time Asian nation didn't import from U.S. since 2016.
(Bloomberg) -- Even though Beijing hasn't sanctioned American oil imports yet, Chinese buyers aren't taking any chances.
The world's second largest economy halted purchases of U.S. crude in August for the first time since September 2016, according to U.S. Census Bureau data released Friday. In July, Chinese buyers received nearly 12 million barrels of crude from the U.S.
Beijing, once an enthusiastic buyer of U.S. crude after Washington lifted its restrictions on exports in December 2015, has even jockeyed with Canada for the position of top importer at times. Yet, China's interest in American oil has diminished amid the escalating trade spat between the two nations.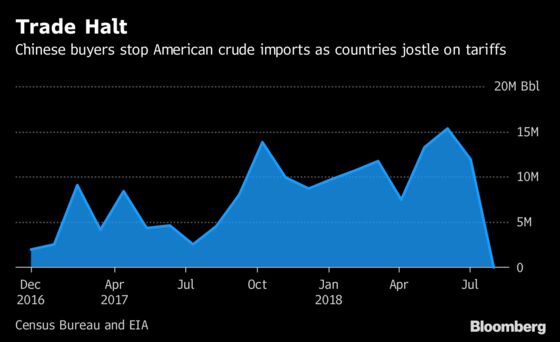 In June, Beijing threatened to slap a 25 percent tariff on crude imports in response to U.S. President Donald Trump's $50 billion levy on Chinese imports. China's largest refiner Sinopec then suspended its incoming shipments of U.S. crude, yet eventually resumed some purchases after crude was removed from that list.
The future of American crude shipments into China remains uncertain and there is still no guarantee that threats of a U.S. crude tariff won't resurface as the trade conflict persists. American oil producers, particularly those who operate in the key Permian Basin of West Texas and New Mexico, risk feeling the pain from the ongoing tensions as they increasingly look to foreign shores to market their supplies, as local demand becomes saturated.
To contact the reporter on this story: Sheela Tobben in New York at vtobben@bloomberg.net
To contact the editors responsible for this story: David Marino at dmarino4@bloomberg.net, Jessica Summers, Mike Jeffers