Australia Set to Spy on WhatsApp Messages With Encryption Law
Prime Minister Scott Morrison said new powers are needed to help foil terrorist attacks and crimes involving child pornographers.
(Bloomberg) -- Australia is set to give its police and intelligence agencies the power to access encrypted messages on platforms such as WhatsApp, becoming the latest country to face down privacy concerns in the name of public safety.
Amid protests from companies such as Facebook Inc. and Google, the government and main opposition struck a deal on Tuesday that should see the legislation passed by parliament this week. Under the proposed powers, technology companies could be forced to help decrypt communications on popular messaging apps, or even build new functionality to help police access data.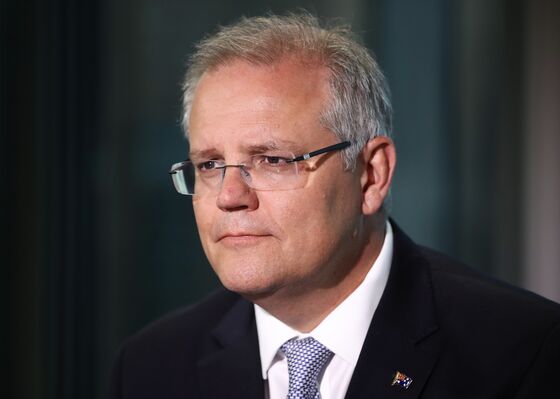 Prime Minister Scott Morrison has said the legislation is needed to help foil terrorist attacks and organized crime. Critics say it is flawed and could undermine security across the Internet, jeopardizing activities from online voting to market trading and data storage.
The legislation thrusts Australia to the heart of a global tug of war between tech companies and governments over privacy and security. In 2016, the U.S. Justice Department clashed with Apple Inc. when the company refused to unlock an iPhone connected to a mass shooting in San Bernardino, California. The U.K. government, meanwhile, has been deeply critical of WhatsApp's end-to-end encryption after the messaging service was used by a terrorist shortly before he killed five people in London in March 2017.
The Australian government's cyber security adviser Alastair MacGibbon said Wednesday that authorities had been able to intercept telephone communications lawfully for almost 40 years, and needed new powers to keep pace with modern technology.
Law enforcers have been "going blind or going deaf" because of encryption, he said in an interview with the Australian Broadcasting Corp.
"What this law does is help codify a conversation between police and telecommunication companies, that has to be reasonable, has to be proportionate, and has to be technically feasible," he said.
The Digital Industry Group, an industry association whose members include Facebook and Google, has campaigned against the bill in a loose alliance with Amnesty International and the Human Rights Law Center.
Lobby group Digital Rights Watch said "some extremely dangerous elements" of the legislation had been addressed by the agreement between the government and the opposition Labor party.
The legislation, for instance, will be subject to a review by a parliamentary committee for 12 months. And any so-called "technical capability notice" that would force tech companies to create new functionality would require stricter oversight.
"But the fundamental fact remains that the powers being sought by law enforcement are ill-informed, badly drafted and a gross overreach," Digital Rights Watch said in a statement. "This bill is still deeply flawed, and has the likely impact of weakening Australia's overall cyber-security, lowering confidence in e-commerce, reducing standards of safety for data storage and reducing civil right protections."
To contact the reporter on this story: Jason Scott in Canberra at jscott14@bloomberg.net
To contact the editors responsible for this story: Ruth Pollard at rpollard2@bloomberg.net, Edward Johnson