Shoe Shoppers Going Vegan as Beef Boom Creates Cattle-Hide Glut
Shoe Shoppers Going Vegan as Beef Boom Creates Cattle-Hide Glut
(Bloomberg) -- Back in 1991, when Scott Starbuck opened City Soles in Chicago, most of the shoes his customers wanted were made with real leather from cow hides.
Today, shoppers have a more vegan sensibility about what goes on their feet, demanding shoes with non-animal elements like canvas, microfiber and plastic. Making the choice easier are advances in the quality of fake leather, which is now so good most buyers can't distinguish it from the real thing.
"You see more and more people wearing other materials," even if they aren't vegetarians or vegans, Starbuck said.
That's bad news for the leather industry because footwear makers are by far the biggest buyers, accounting for 55 percent of demand. What's worse, the world's appetite for American beef is sending near-record numbers of cattle to the slaughterhouse, leaving a glut of hides as demand slows.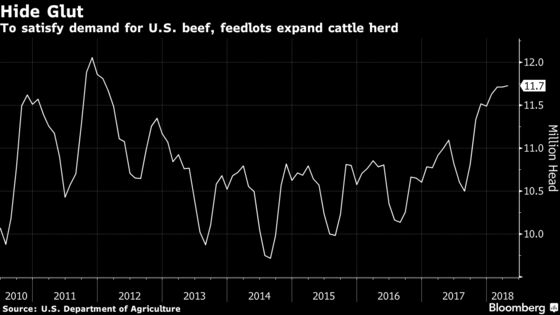 Once a status symbol and a staple of formal outfits, leather shoes are falling on hard times. Not only has the casual-dress trend fueled the rise of sneakers for all occasions, but more shoppers are avoiding products made with animal parts, like hides or furs. While the shift partly reflects an abundance of choices in materials, consumers cite growing discomfort with the slaughter of cattle and concern over the environmental impact of raising them by the millions.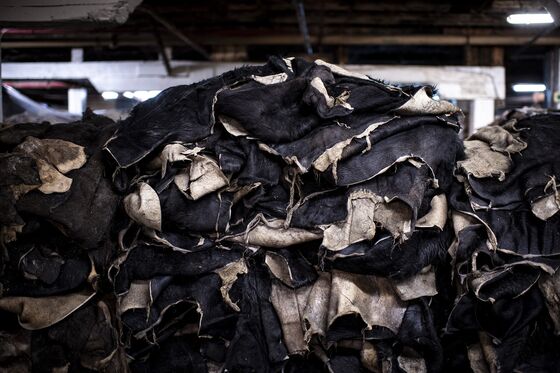 Turning cattle hides into leather is just one of many uses for cattle carcasses, which humans have been exploiting since early civilizations made food containers from intestines and soap from fat. While the most valuable parts today are those sold as ground beef or steaks, remnants like bones, blood and fat end up in things like fertilizer, gelatin, medicines and textiles. Hides and other byproducts account for about 44 percent of the slaughtered animal's weight, but less than 10 percent of its value, government data show.
Hides are the key ingredient in a global market for leather goods that was worth $93.2 billion in 2016, according to Research and Markets. A single hide can produce enough leather for 11 cowboy boots, 20 footballs or one bucket seat. But supplies of the raw material have been out of balance for several years.
Back in 2014, the number of hides plunged after a drought forced U.S. ranchers to shrink their cattle herd to its smallest size in six decades. As a result, prices shot up. Manufacturers were forced to figure out ways of using less leather in their products, said Ken Maxfield, president of The Maxfield Report, a hide-market publication. Years later, demand still hasn't bounced back.
"The industry has struggled to recover," said Stephen Sothmann, president of the U.S. Hide, Skin & Leather Association. "We haven't regained market share."
Hide prices are among the lowest since 2009. They've dropped as much as 24 percent from a year earlier and are down by almost half since the peak in 2014, according to the most recent monthly report from the U.S. Department of Agriculture.
The market probably hasn't bottomed yet, according to a recent report by Harland M. Braun & Co., which supplies hides to tanners.
Younger consumers, in particular, prefer more casual footwear to dress shoes, and they are gravitating to non-leather products from companies with a compelling feel-good story about how they're made, said Jocelyn Thornton, senior vice president of creative services at the retail and fashion advisory firm Doneger Group.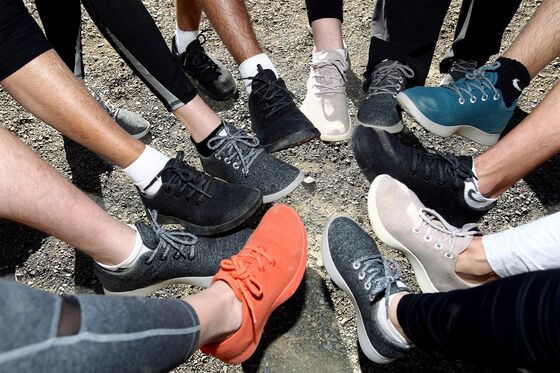 For example, Allbirds, a San Francisco-based shoe startup, makes athletic shoes out of wool. Adidas AG, the giant sportswear maker headquartered in Herzogenaurach, Germany, has made a million shoes out of up-cycled plastics.
"They're not necessarily seeking out synthetics," Thornton said. "They're just looking for things that are better for the environment, better for the future."
Leather shoes will retain the biggest share of $83.7 billion in U.S. footwear sales this year, according to Hamburg-based researcher Statista. But athletic footwear sales jumped 14.3 percent in 2016, while leather shoes tumbled 12 percent, a trend that's expected to continue, Statista said.
Leather items that remain in vogue contain less. Little ankle booties with synthetic cutouts have replaced knee-high leather boots, and generously-sized leather bags have made way for smaller purses, like clutches, according to Maxfield, the leather market researcher.
Automobile makers are selling more cars, but finding reasons to cut down on the leather they use. Some consumers demand a "fully vegan car," and electric-vehicle maker Tesla Inc.'s new Model Y sport utility vehicle won't use any leather at all, Chief Executive Officer Elon Musk said at the company's annual meeting June 5.
Even the traditional leather billfold may be on its way out. Over the next decade, people will ditch "dead-cow wallets" as commerce moves to more mobile and digital payments, Dan Schulman, CEO of PayPal Holdings Inc., told analysts in a May 24 call. "They will be a thing of the past."
To be sure, demand is growing for fine leather. There's actually not enough supply of the high-end hides from pampered young calves that produce the soft, unblemished leather needed for the pricey hand bags and other luxury goods favored by the wealthy, according to Don Ohsman, publisher of industry researcher Hidenet.
But those markets are small compared with shoes, which account for more than half. About 20 percent goes to cars, 12 percent to furniture upholstery, and 13 percent for bags, according to Sothmann, the industry group president.
Alexis Lavko, a consultant at Epsilon Economics in Chicago, has traded leather flat shoes for a pair of Rothy's -- made from recycled plastic bottles that cost $125. She says they look stylish enough for the office and didn't need time to break them in.
"I love the fact that this company was trying to figure out something to do with things that are getting thrown in landfills," Lavko said. "I like them better than any other leather flats."
--With assistance from Jamie Butters.
To contact the reporters on this story: Lydia Mulvany in Chicago at lmulvany2@bloomberg.net;Lindsey Rupp in New York at lrupp2@bloomberg.net
To contact the editors responsible for this story: Simon Casey at scasey4@bloomberg.net, Steve Stroth