Danish Unemployment Rate Rises to Highest in Almost 8 Years
Danish Unemployment Rate Rises to Highest in Almost 8 Years
30 Jun 2020, 01:31 PM IST
(Bloomberg) -- Denmark's unemployment rate rose to its highest level since the end of 2012 in May, as the coronavirus lockdown wiped out jobs across the Nordic economy.
The gross rate rose to 5.6%, from 5.4% in April, Statistics Denmark said in a statement on Tuesday.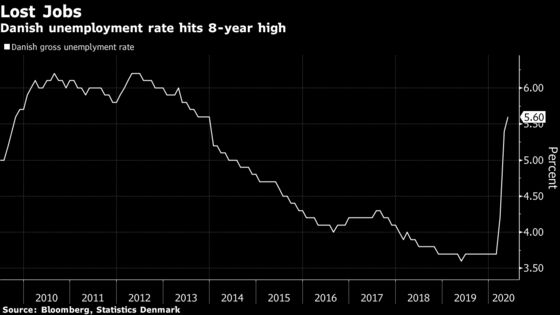 According to Jes Asmussen, the Copenhagen-based chief economist for Handelsbanken, the jobless rate would likely have been higher had it not been for the government's wage-support program. However, with several companies having since left the scheme, and with the employment ministry's daily estimates pointing to further job losses since May, Asmussen is expecting a further increase in the unemployment rate.
"Fortunately, with the reopening of the Danish economy, the economy has started to gain momentum again," Asmussen said in a note. Still, "this does not mean that we will see a rapid return to more 'normal' conditions," given that "many jobs are seen as being permanently lost."
Read more:

DFDS Cuts 650 Jobs, Will Save DKK250 Mln a Year

ISS Lays Off 300 Employees in Denmark Due to Covid-19 Impact
The Copenhagen-based agency also said the Danish economy contracted 2% compared with the last three months of 2019, less than previously calculated.
The agency revised its latest estimate of a drop of 2.1%. Measured against the first quarter of last year, GDP fell 0.2% compared with a previously reported 0.3% decline.