Jaguar Land Rover Warns Of Supply Chain Issues Outside China
Expect coronavirus to affect fourth quarter but it's too early to quantify: Jaguar Land Rover.
(Bloomberg) -- Jaguar Land Rover warned of potential disruption to its supply chains outside of China, two days after first conceding the coronavirus is likely to affect its fourth quarter performance.
The luxury carmaker wrote on Friday that it expects the outbreak to impact its fourth quarter results but that it's too early to quantify. By Sunday it had updated its presentation to add that if disruption continues, supply chains outside China could also be impacted.
The quick revision show how companies are scrambling to respond to both the virus and the growing number of preventative measures put in place in Asia and beyond to halt its spread.
Parent company Tata Motors Ltd. extended a shutdown of its unit Jaguar Land Rover's plant at Changshu in China on Friday due to the outbreak. A spokeswoman for Jaguar did not immediately respond to a request for comment.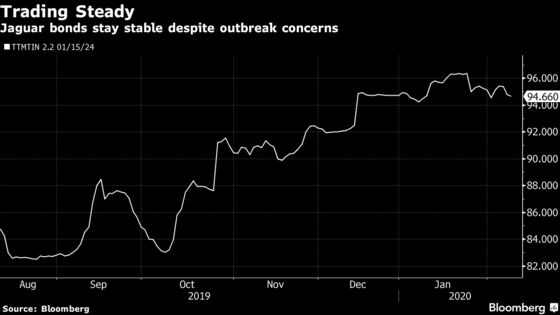 "It feels a lot like the market is in 'wait and see' mode. Any issuer with a hint of Chinese exposure is being asked about coronavirus on earnings calls," said Steven Hunter, CEO and founder of high-yield analytics firm 9Fin Ltd. "Management responses have all been pretty similar - there will be an impact, but no one knows how material it will be."
So far the worries over the cornoavirus have had little impact on Jaguar's sterling, euro and U.S dollar denominated bonds, which are trading near a year-long high. They were largely unchanged on Monday morning, according to CBBT data, after initially suffering some small losses at the end of January.
Travel, automotive and aviation companies or those with significant exposure to Chinese markets have faced pressure this year due to the outbreak. Bonds from shipping firm CMA CGM, travel retailer Dufry, hotel chain Accor and air cargo handler WFS have all suffered in recent weeks.
Still, the high-yield market more generally has withstood the growing concern with the Markit iTraxx Crossover Index, a key measure of risk for the debt of Europe's most fragile companies still hovering at near all time lows.
"So far in 2020 we've had Iran firing missiles at the US, Brexit and now a global pandemic," Hunter said. "A few years ago these kind of events would have closed the primary market for weeks if not months, now not only do they get shrugged off but we hit record issuance levels in January."
To contact the reporter on this story: Laura Benitez in London at lbenitez1@bloomberg.net
To contact the editors responsible for this story: Vivianne Rodrigues at vrodrigues3@bloomberg.net, Bruce Douglas