Mega IPOs Are Spawning Asian Billionaires at a Torrid Pace
Of the 27 billionaires to surface in Asia this year, about a third did so through initial public offerings.
(Bloomberg) -- Another day. Another IPO. Another Chinese billionaire magically appears.
Mu Rongjun, the co-founder of food-delivery behemoth Meituan Dianping, is poised to be the latest to join the club as the company announced plans to go public last month. Of the 27 billionaires to surface in Asia this year, about a third did so through initial public offerings in Hong Kong and Shenzhen, according to the Bloomberg Billionaires Index.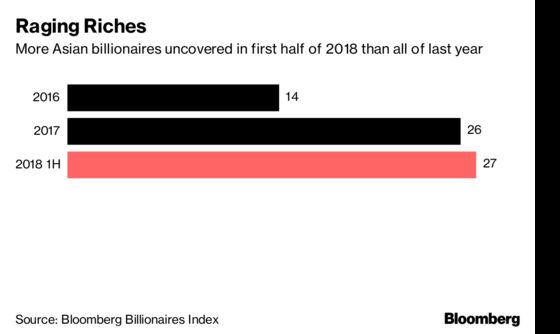 Now the question is whether that torrid pace of wealth creation can continue as global trade tensions mount and markets struggle to hold gains.
Investor demand already appears to be flagging for Xiaomi Corp.'s upcoming $4.7 billion debut, with some institutional investors seeing bids for the Chinese smartphone maker's shares as low as HK$15.20 on Thursday with no offers in gray-market trading, according to people familiar with the matter. That's 11 percent below the issue price. The iShares MSCI Emerging Markets Asia ETF, which surged 41 percent last year, tumbled 6.2 percent in the six months through June, the worst first half since 2013.
Market volatility fueled by fears of a trade war could pose challenges for Meituan Dianping ahead of the IPO, said Ryan Roberts, a senior analyst at MCM Partners in Hong Kong.
"There are definitely arguments that there are some valuation bubbles in Chinese technology companies, especially for those that have not yet turned profitable, which can make establishing their valuation difficult in a public offering," Roberts said in a phone interview. "Investors backing the IPO need to have conviction that profitability and cash flow generation are on the horizon at some point, not just a promise."
Meituan Dianping, backed by top shareholder Tencent Holdings Ltd., is burning cash to fuel scorching growth and turning to the public markets for more as it takes on China's biggest internet companies in food delivery, hotel booking and movie ticketing. It posted a 2017 loss of 19 billion yuan ($2.9 billion) as spending on marketing and research ballooned.
Company co-founder Wang Xing was already known to be a billionaire before the filing of a prospectus that showed him to have an 11.4 percent stake before the offering. That's worth $6.2 billion based on a reported $60 billion valuation. Mu has a $1.4 billion fortune with his 2.5 percent holding. The Beijing-based firm declined to comment on the valuation and the founders' wealth.
Billionaire Ophthalmologist
Meituan, which means "beautiful and together," changed its name to Meituan Dianping in 2015 after acquiring 40 percent of Dianping.com, which has been called China's version of Yelp. It bought the rest two years later and posted 2017 revenue of 33.9 billion yuan, according to the prospectus. Dianping.com was started in 2003, a year before Yelp.
The January IPO of C-Mer Eye Care Holdings Ltd. produced this year's first new Chinese billionaire, Dennis Lam, who also became Hong Kong's first billionaire ophthalmologist. Xiaomi's offering could produce at least three others, while the debut of Contemporary Amperex Technology Co. Ltd., the world's biggest maker of batteries for electric vehicles, brought four within its first week of trading. Those eight tycoons, along with Mu, had a combined net worth of $18.5 billion as of July 3.
Deloitte has forecast that Hong Kong and mainland IPO markets will raise as much as $54 billion for about 340 companies by the end of this year.
--With assistance from Pei Yi Mak, Lulu Yilun Chen and Sofia Horta e Costa.
To contact the reporter on this story: Venus Feng in Hong Kong at vfeng7@bloomberg.net
To contact the editors responsible for this story: Pierre Paulden at ppaulden@bloomberg.net, Peter Eichenbaum