Trade War Imperils World Growth as IMF Sees 'Complacent' Markets
Downside risks to the global economy are growing, led by further ratcheting up of trade tensions, IMF warns.
(Bloomberg) -- Escalating trade tensions are threatening to derail a global upswing that's already losing momentum amid weaker-than-expected growth in Europe and Japan as financial markets seem complacent to the mounting risks, the International Monetary Fund warned.
The IMF kept its global forecast unchanged Monday in the latest update to its Global Economic Outlook. The world economy will grow 3.9 percent this year and next, said the Washington-based fund. The pace this year would be the fastest since 2011.
But cracks are forming in the growth picture. The global expansion is becoming less balanced, with growth sputtering in the euro area and Japan. Growth appears to have peaked in some major economies, and the boost from U.S. tax cuts and spending increases is expected to fade, according to the IMF.
At the same time, downside risks to the global economy are growing, led by the threat of a further ratcheting up of trade tensions, the IMF said.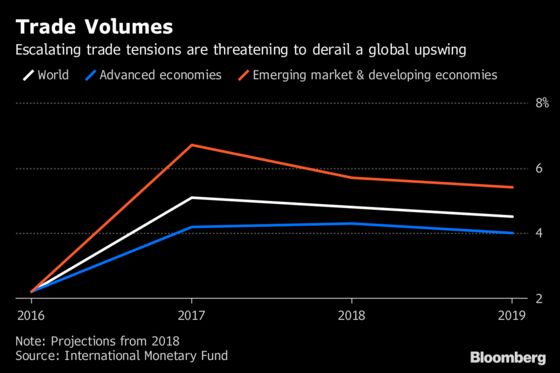 "The risk that current trade tensions escalate further -- with adverse effects on confidence, asset prices, and investment -- is the greatest near-term threat to global growth," IMF chief economist Maurice Obstfeld said in prepared remarks.
If threatened trade barriers become reality, global output could drop by about 0.5 percent below its projected level by 2020, Obstfeld said. The U.S. economy would be "especially vulnerable," given it would be the focus of retaliation in a tit-for-tat conflict, Obstfeld said.
The IMF's warning comes as President Donald Trump considers a range of further tariffs in his mission to level the playing field for U.S. companies and help American workers. The Trump administration has released a list of $200 billion in Chinese imports -- from televisions to pineapple juice and ski gloves -- that may be targeted for duties, and officials are also weighing tariffs on foreign cars.
With midterm elections in Congress looming in November, Trump is following through on campaign pledges to revive the nation's manufacturing sector and cut America's $552-billion trade deficit. But U.S. business groups have panned the tariffs, saying they'll increase costs and raise prices for consumers. Countries from China to Canada have already retaliated against U.S. tariffs, raising the risk of a drawn-out global trade war.
The IMF projects the U.S. current-account deficit will widen, thwarting Trump's plans to shrink it, as tax cuts and government spending increases boost demand for imports.
Obstfeld said investors seem "broadly complacent" about the risks facing the global economy, noting that asset prices remain high in many countries. Other risks include rising political uncertainty in Europe and the unresolved terms for Britain's exit from the EU.
Financial markets are "susceptible to sudden re-pricing if growth and expected corporate profits stall," he said.
The IMF left its forecast for the U.S. unchanged, predicting the world's biggest economy will grow 2.9 percent this year before slowing to 2.7 percent in 2019. That's short of the sustained 3 percent or more growth Trump has often suggested is on the way, and that officials including Treasury Secretary Steven Mnuchin have forecast will boost government receipts to offset reductions in corporate and personal tax rates.
Obstfeld cautioned that America's growing fiscal deficit will make it harder for the government to fight recessions and could increase the tax burden on future generations.
"You kind of want to build up your buffers when times are good. You want to keep your powder dry for when you really need it, and that's not the direction that U.S. fiscal policy has gone," he said.
The fund cut its growth projection for the euro area, which is now expected to expand 2.2 percent this year, down 0.2 percentage point from the IMF's previous forecast, in April. The currency bloc will grow 1.9 percent next year, down 0.1 point from April.
Growth in Germany and France came in softer than expected in the first quarter, while political turmoil in Italy is expected to weigh on domestic demand, the fund said.
The fund also downgraded its forecast for Japan by 0.2 point this year to 1 percent growth, based on weak consumption and investment. Japan will grow 0.9 percent next year, unchanged from April, the IMF said.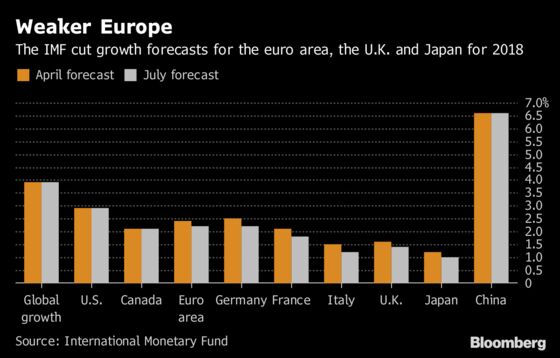 China's economy will expand at 6.6 percent in 2018 and 6.4 percent next year, both unchanged from several months ago, according to the fund.
The IMF also cut its forecast for the U.K. to 1.4 percent this year, down 0.2 point. U.K. growth will pick up to 1.5 percent next year, unchanged from April, the IMF said.
To contact the reporter on this story: Andrew Mayeda in Washington at amayeda@bloomberg.net
To contact the editors responsible for this story: Brendan Murray at brmurray@bloomberg.net, Ros Krasny, Sarah McGregor